Hawkeye Fan Shop — A Black & Gold Store | Hawk Talk Monthly — Dec. 2016 | 24 Hawkeyes to Watch: Sammy Brooks | Notebook in PDF Format
 #3 IOWA vs. #2 PENN STATE
ON THE MAT
The University of Iowa wrestling team hosts No. 2 Penn State on Friday at 8 p.m. (CT) on Mediacom Mat at Carver-Hawkeye Arena. Tickets are available at the UI Athletics Ticket Office, over the phone at 1-800-IA-HAWKS, and online at hawkeyesports.com.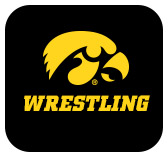 THE SERIES — PENN STATE
Iowa leads the all-time series 27-8-2. The Hawkeyes have won six of the last eight meetings, including the most recent meeting, 18-12, in 2015 at Penn State. The Nittany Lions won the most recent meeting in Iowa City, 24-12, in 2014.
      The Hawkeyes are 14-4 against Penn State in Iowa City. 
 
BRANDS VS. SANDERSON
Iowa head coach Tom Brands owns a 7-2 all-time record against Penn State head coach Cael Sanderson.
      Brands and Sanderson met three times from 2006-08, when Sanderson was head coach at Iowa State. Brands won all three meetings.
      The coaches have met six times since Sanderson was named head coach at Penn State in 2009. Brands won in 2010, 2011, 2013, and 2015. Sanderson won 22-12 at University Park in 2012 and 24-12 in Iowa City in 2013.
 
HAWKEYES AT HOME
The Hawkeyes are 236-23 all-time at Carver-Hawkeye Arena since moving from the UI Field House in 1983. The Hawkeyes have recorded 20 undefeated season in Carver-Hawkeye Arena, the most recent in 2012-13 (9-0).
      Carver-Hawkeye Arena has hosted two United States Olympic Team Trials, three Big Ten Championships (1983, 1994, 2005), and four NCAA Championships (1986, 1991, 1995, 2001). The Hawkeyes have won five tournament titles on their home mat, including the 1983 and 1994 Big Ten Championships, and the 1986, 1991 and 1995 NCAA Championships.
 
STREAKING THROUGH THE B1G
Iowa has won 24 consecutive Big Ten duals, the longest streak since winning 39 straight conference duals from 2007-12. Iowa has not lost a Big Ten dual since falling at home to Minnesota, 19-15, on Jan. 25, 2014.
      The 24-dual conference winning streak ranks as the third longest in program history. The Hawkeyes won 39 in a row from 2007-12, and 98 consecutive duals from 1974-89.
 
UNDEFEATED IN THE B1G
Three Hawkeyes have undefeated career records in Big Ten duals. They include junior Brandon Sorensen (20-0), and redshirt freshmen Michael Kemerer (3-0) and Cash Wilcke (3-0).
    Sorensen was 8-0 as a redshirt freshman in 2014-15 and 9-0 as a sophomore last season. Among his 20 wins, eight have come against ranked opponents, and five have been ranked in the top 10.
 
TOP 5 MATCHUPS
Friday's dual could potentially feature four top-five matchups. The Hawkeyes and Nittany Lions have wrestlers ranked in the top five in at least one national poll at 125 (Gilman/Suriano), 149 (Sorensen/Retherford), 157 (Kemerer, Nolf), and 184 (Brooks/Nickal).
 
VAGUELY FAMILIAR
Only two of the duals 10 matchups feature wrestlers with a history. Cory Clark won his only meeting against Jered Cortez, 6-2, at the 2014 Midlands Championships. Brandon Sorensen has lost his only two career meetings against Zain Retherford, 4-0 at the 2016 Big Ten finals and 10-1 at the 2016 NCAA finals. Every other wrestler is meeting their respective opponents for the first time.
 
UNDEFEATED HAWKEYES
Seniors Thomas Gilman and redshirt freshman Michael Kemerer enter Friday's dual with undefeated records. Kemerer has opened his college career with 19 straight wins, and Gilman has opened his senior season with 17 straight wins. In his last four matches Kemerer has three wins over top 10 opponents, 16 by bonus points. In the history of Iowa wrestling, 15 wrestlers have finished the season with a perfect record (minimum 20 matches). Four of those wrestlers were able to perform the feat twice. They include Mark Ironside, Lincoln McIlravy, T.J. Williams and Jim Zalesky. Iowa coaches Tom Brands and Terry Brands are among the 15 wrestlers. Tom went 45-0 in 1990-91 and Terry went 35-0 in 1991-92.
 
CHASING MILESTONE
Four Hawkeyes are within striking distance of career win No. 100. Senior Thomas Gilman leads all active Hawkeyes with 92 career wins, two more than senior Sammy Brooks. Senior Cory Clark has 87 career wins, and junior Brandon Sorensen has 86 career wins. Forty wrestlers in the program history have accumulated 100 career wins, including coaches Tom Brands (158), Terry Brands (137), and Ryan Morningstar (110).
 
A LITTLE EXTRA FROM GILMAN
Thomas Gilman, the nation's top-ranked 125-pounder, is 17-0 and has scored bonus points in 16 matches. Gilman has matched his career high with six technical falls and leads the team with seven pins. He averages 4.9 points per win, and 5.1 points in eight dual wins (three pins, three technical falls, and two major decision). He has four wins over ranked opponents.
    Gilman went 6-0 at the 2016 Midlands Championships to win the title for the third time. He is the 11th Hawkeye in program history to win at least three Midlands championships. He recorded one pin, one major decision, and three technical falls en route to the title and was named Champion of Champions by his fellow first-place winners, the Dan Gable Most Outstanding Wrestler of the Tournament, and Big Ten Conference Co-Wrestler of the Week.
 
CLARK CLOCKS IN AT NO. 3
Senior Cory Clark is 9-1 this season with four falls. He opened the season 9-0 and was the nation's top-ranked 133-pounder before falling to No. 5 Kaid Brock on Jan. 15 at Oklahoma State. Clark is 1-1 this year against top 10 opponents, and 31-14 in his career against ranked opponents.
 
MAJOR SORENSEN
Junior Brandon Sorensen, ranked No. 3 in the country at 149, is 17-1 with a team- and career-high eight major decisions.
    Sorensen has scored bonus points in 14-of-17 wins and averages 4.4 points per win.
    Sorensen went 5-0 at the 2016 Midlands Championships to win the 149-pound title for the second straight year. He became the 24th wrestler in the 54-year history of the Midlands Championships to join the prestigious 20-in-4 club, which requires a wrestler to record at least 20 wins in their first four years of competition.
 
BROOKS ON A ROLL
Senior Sammy Brooks' seven-match win streak includes two major decisions, two technical falls, and four wins over ranked opponents. Brooks has won his last three matches by technical fall, technical fall, and major decision. He has outscored his opponents 51-10, including a 13-3 major decision against No. 5 Nolan Boyd of Oklahoma State.
 
CARTON TAKES OWNERSHIP AT 141
Senior Topher Carton entered the rankings for the first time in his career Jan. 10 after picking up a pair of wins over ranked opponents at Michigan and Michigan State. Carton entered his 141-pound match against defending champion Dean Heil ranked No. 18 in the country. He lost to the Cowboy by an 8-5 decision and sits at No. 18 heading into Friday's match against No. 12 Jimmy Gulibon.
    Carton, a 141-pounder from Rock Island, Illinois, is 17-3 this season with five major decisions, four pins, and one technical fall. The major decisions and pins are career bests. He has also scored 29 points while posting a 7-1 dual record.
 
KEMERER REMAINS UNBEATEN
Redshirt freshman Michael Kemerer improved to 19-0 on Jan. 15 with a 4-3 win over Oklahoma State's No. 6 Joe Smith in Stillwater, Oklahoma. Kemerer's 19 wins include 11 wins by bonus points and four wins over ranked opponents, including three in the top 10. Three of his last four matches have been against top 10 opponents. He is the first Hawkeye redshirt freshman to win his first 19 matches since Matt McDonough, won 32 in a row to start the 2009-10 season.
 
THE ATTENDANCE GAME
The University of Iowa wrestling program led the nation in attendance for the 10th consecutive season in 2015-16.
      The Hawkeyes averaged an NCAA record 12,166 fans and set the single season dual attendance record when 42,287 fans watched No. 4 Iowa defeat top-ranked Oklahoma State, 18-16, at Kinnick Stadium. Throughout the season, Kinnick and Carver-Hawkeye Arena welcomed 97,325 wrestling fans for a dual meet.
      Iowa averaged more than 8,000 fans for the eighth consecutive season. 
  
HAWKEYE WRESTLING HISTORY
Iowa's overall dual meet record is 981-227-31 (.799) in 107 seasons. The Hawkeyes have won 23 national titles and 35 Big Ten titles. Iowa's 53 NCAA Champions have won a total of 81 NCAA individual titles, crowning six three-time and 16 two-time champions. The Hawkeyes' 111 Big Ten champions have combined for 197 conference titles. There have been seven four-time, 18 three-time, and 29 two-time Big Ten champions from Iowa. Iowa's 154 All-Americans have earned All-America status 319 times, including 18 four-time, 36 three-time and 40 two-time honorees.