Hawkeye Fan Shop — A Black & Gold Store | 24 Hawkeyes to Watch 2016-17 | Hawk Talk Monthly — Jan. 2017 | Photo Gallery I | Photo Gallery II
IOWA CITY, Iowa — The third-ranked University of Iowa wrestling team won six-of-10 matches and scored bonus points at 125 and 157 to defeat fourth-ranked Ohio State, 21-13, on Friday night at Carver-Hawkeye Arena.
 
Top-ranked Thomas Gilman opened the dual with a 23-8 technical fall over No. 18 Jose Rodriguez at 125, and second-ranked Michael Kemerer won by 14-3 major decision over Jake Ryan at 157.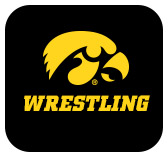 "Bonus points are big," said UI head coach Tom Brands. "They can be the difference in a dual like this and they will be the difference in March. We ironed some things out but there is still work to do."
 
Iowa sent four top-five wrestlers to the mat and all four came away with wins. Third-ranked Brandon Sorensen used a second-period escape and a two-minute ride in the third to hand No. 5 Micah Jordan his first loss of the season, 2-0, at 149. The match was Sorensen's third in 13 days against a top-five opponent. He had previously dropped one-point overtime decisions against Oklahoma State and Penn State.
 
"It's nice to be on the other side," Sorensen said, "but here's the thing, you're getting talked to the same way. Win or lose that, you're getting talked to the same way. That's not how we want it done."
 
"There are a lot of ways to win that match and one of the ways is 2-0," Brands said. "He put a ride on him. He didn't just get riding time and let him up, he kept him down. That is a gutsy way to win but we can score more points."
 
Fifth-ranked Sammy Brooks turned a 3-1 deficit into a 5-3 win against defending NCAA champion Myles Martin at 184. Brooks escaped to start the third and finished the period on top after taking Martin to the mat at the 1:30 mark, earning a point for riding time.
 
"(Brooks) has gotten better at not getting rattled," Brands said. "He was wrestling extremely hard, he got a stall call, and then scores and finishes. He was patient on the leg. He didn't just dive for the ankle. I liked his patience and he also had urgency. So urgent patience."
 
The Hawkeyes also got wins from redshirt freshmen at 165 and 285. They were the only two bouts that didn't feature a ranked wrestler, and they both went to Iowa. Joey Gunther scored a takedown in the final minute of the second period and opened the third with an escape to win, 3-0, at 165. Steven Holloway used two takedowns in the third to win 6-1 at 285. It was the first Big Ten win of Holloway's career.
 
The Buckeyes picked up decisions at 133, 141, and 174, and won by major decision at 197. Topher Carton and Alex Meyer lost one-point decisions to ranked opponents. Carton, ranked fifteenth at 141, ran out of time in a 5-4 loss to No. 14 Luke Pletcher, and No. 11 Meyer surrendered a late takedown to top-ranked Bo Jordan in a 3-2 loss at 174. Phillip Laux dropped a 10-3 decision to No. 1 Nathan Tomasello at 133, and Cash Wilcke lost 19-7 to No. 4 Kollin Moore at 197. Laux was wrestling in place of fourth-ranked Cory Clark, who was held out for precautionary reasons.
 
"It's the smart thing to do and the right thing to do," Brands said. "We're very conservative and we're going to do the right thing. The call was mine."
 
Iowa returns to the mat Friday, Feb. 3 hosting Wisconsin at 7 p.m. (CT) at Carver-Hawkeye Arena. Tickets are $12 for adults and $8 for youth 18-years and younger. UI students and children five-years and younger are admitted free. Tickets are available at the UI Ticket Office over the phone at 800-IA-HAWKS and online at hawkeyesports.com.
 
NOTES: Attendance was 10,338 … 17 of Gilman's 19 wins have been by bonus point… Sorensen improved to 11-8 all-time against ranked opponents… Holloway won a Big Ten match for the first time in his career… Iowa completed a 13-day stretch against No. 1 Oklahoma State, No. 2 Penn State, and No. 4 Ohio State… Brooks has won five of his last six against ranked opponents, including three top 10 opponents.
 
#3 Iowa 21, #4 Ohio State 13
125 — #1 Thomas Gilman (IA) tech. fall #18 Jose Rodriguez (OSU), 23-8; 5-0
133 — #1 Nathan Tomasello (OSU) dec. Phillip Laux (IA), 10-3; 5-3
141 — #14 Luke Pletcher (OSU) dec. #15 Topher Carton (IA), 5-4; 5-6
149 — #3 Brandon Sorensen (IA) dec. #5 Micah Jordan (OSU), 2-0; 8-6
157 — #2 Michael Kemerer (IA) major dec. Jake Ryan (OSU), 14-3; 12-6
165 — Joey Gunther (IA) dec. Cody Burcher (OSU), 3-0; 15-6
174 — #1 Bo Jordan (OSU) dec. #11 Alex Meyer (IA), 3-2; 15-9
184 — #7 Sammy Brooks (IA) dec. #10 Myles Martin (OSU), 5-3; 18-9
197 — #4 Kollin Moore (OSU) major dec. Cash Wilcke (IA), 19-7; 18-13
285 – Steven Holloway (IA) dec. Josh Fox (OSU), 6-1; 21-13
Team Records:
Iowa: 8-2, 4-1
Ohio State: 8-1, 4-1