Hawkeye Fan Shop — A Black & Gold Store | 24 Hawkeyes to Watch 2016-17 | Hawk Talk Monthly — February
Editor's Note: The following first appeared in the University of Iowa's Hawk Talk Daily, an e-newsletter that offers a daily look at the Iowa Hawkeyes, delivered free each morning to thousands of fans of the Hawkeyes worldwide. To receive daily news from the Iowa Hawkeyes, sign up HERE.
By Cari Gold
hawkeyesports.com
IOWA CITY, Iowa — Kaitlyn Mullarkey didn't plan on playing collegiate softball when she graduated from high school nor did she plan on attending the University of Iowa. Now Mullarkey enters her senior season as the leading returner for the Hawkeye softball team.
 
Mullarkey played hockey, basketball, softball, and several other sports as a kid. As she entered high school, she focused more on basketball and she ended up playing collegiate basketball at Illinois Wesleyan, a Division III institution in Bloomington, Illinois.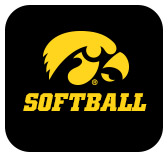 Late into her first college semester, Mullarkey visited friends at Iowa and her plans changed.
 
"A weekend after I came to visit my friends at Iowa, I realized Iowa was where I was meant to be," said Mullarkey. "I realized I should have gone here in the first place."
 
She took the spring semester off and volunteered to coach her high school softball team. That semester away from the diamond showed Mullarkey how much she missed playing the sport, so she planned a return.
 
The summer prior to attending Iowa, Mullarkey played travel softball, something she wasn't able to do in high school because of basketball. Then she took it a step further.
 
"That semester off was the first time in my life that I haven't had to train and attend practices," said Mullarkey. "It was weird for me and I felt like I needed to be on the team. I love softball, and it was something that I did my whole life and something I enjoyed, so I decided to try out and see what happened."
 
As a freshman walk-on, Mullarkey knew she would have to prove herself. After cementing her name in the record books with 15 career home runs, which included nine home runs as a junior, Mullarkey has shown that she belongs at the collegiate level.
 
Although she is presently one of the team leaders, she has not always had that level of confidence.
 
"My freshman year, coming in as a walk-on, I felt nervous and wanted to prove myself in everything that I did," said Mullarkey. "I have grown into a better player than when I showed up here. I'm more comfortable and confident in myself and my abilities."
 
Mullarkey's confidence comes from an unexpected place: books. The Hawkeyes were asked to choose a leadership book to read over winter break; Mullarkey read four and she isn't done yet.
 
First, Mullarkey read Leading with the Heart, by Duke men's basketball coach Mike Krzyzewski. Then she read the books her teammates chose, such as Mind Gym by Gary Mack and the Energy Bus by John Gordon.
 
"For this offseason, I did my workouts and softball training, but I did a lot of mental-side of the game training, too," said Mullarkey. "It's interesting, because it's not something you are taught at a young age, but it's such an important part of the game."
 
Mullarkey plans to continue reading and has several books on her desk, including Urban Meyer's Above the Line: Lessons in Leadership and Life from a Championship Season.
 
"My attitude going into practice is different than it has been in the past, in a positive way," said Mullarkey. "I wish I had focused on the mental side and that kind of preparation sooner, because it is so important and I have more confidence now. It keeps me in that constant state of mind of wanting to compete and being prepared for everything. That has helped me become a better player coming into the season."
 
The Hawkeyes open the 2017 campaign Friday as they travel to San Marcos, Texas, for the CenturyLink Classic. The Hawkeyes compete from Friday through Sunday against Abilene Christian, Texas A&M – Corpus Christi, Texas State, and Texas Tech.