Hawkeye Fan Shop — A Black & Gold Store | 24 Hawkeyes to Watch 2016-17 | Hawk Talk Monthly — Feb. 2017 | VIDEO — Kaitlyn Mullarkey
Editor's Note: The following first appeared in the University of Iowa's Hawk Talk Daily, an e-newsletter that offers a daily look at the Iowa Hawkeyes, delivered free each morning to thousands of fans of the Hawkeyes worldwide. To receive daily news from the Iowa Hawkeyes, sign up HERE.
By DARREN MILLER
hawkeyesports.com
IOWA CITY, Iowa — Kaitlyn Mullarkey is known as "Chip" to her University of Iowa softball family. If not for her meal choice on one uncharacteristically warm autumn afternoon, she might be known as Mickey D, Panch, or Pita P.
 
Here's why:
 
When the Hawkeye softball team announced its annual preseason tryouts for walk-on players in 2013, Mullarkey answered the ad. Before a workout, she fueled up at her favorite fast food restaurant, Chipotle.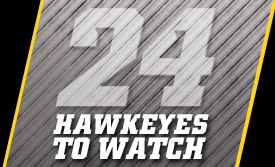 "I get the same thing every time," Mullarkey said. "Steak burrito bowl, no beans, mild salsa, cheese, sour cream, and guac(amole)."
 
Only three other candidates joined Mullarkey at Pearl Field that muggy day; one was a catcher and one went AWOL for the better part of an hour. That left Mullarkey shagging a majority of fly balls off the bat of assistant coach Adrianna Baggetta. She said it seemed like an hour.
 
"I needed to take a knee for a second and throw up a little bit, but then I kept going," Mullarkey said.
 
Mullarkey stuck to a roster spot with the Hawkeyes and the nickname Chip — short for Chipotle — stuck to Mullarkey.
 
"She showed grit, determination, and a little bit of perseverance on probably the hottest day of the year," Iowa head coach Marla Looper remembers about the tryout. "She kept going like the Energizer bunny and finally stopped, took a break, got sick, and stood back up. I asked if she was OK or needed a break, she said 'Nope, I'm ready to go again.'"
 
Now a senior, Mullarkey has grown into a leader on and off the field. In 134 career games, she is batting .269 with 16 home runs, 56 RBIs, and 16 stolen bases. In the first nine games this season, she is batting .333 and has scored five of Iowa's 24 runs. Iowa is 2-7 and has lost four straight games by one run.
 
"I hold myself to very high expectations," Mullarkey said. "We don't have a winning record right now, but most of our losses have been one-run games, so we're capable of winning these games."
 
Mullarkey's sophomore season of 2015 provided two of the biggest highlights. The Hawkeyes defeated No. 4 Michigan, 6-4, in Ann Arbor, Michigan, and eliminated No. 12 Minnesota from the Big Ten Tournament, 2-0, in Columbus, Ohio. There have been many off-field memories as well.
 
"I have made some of the best friends that I will have for life," Mullarkey said. "Iowa is a great school, we're privileged to have so many things given to us athletically. I have had a great time here and I'm trying to live it out."
 
But it almost never happened.
 
A native of Park Ridge, Illinois, Mullarkey was a three-year letterwinner in basketball at Maine South High School. The Hawkettes won three straight regional championships and Mullarkey was the team leader in steals and assists as a junior and senior.
 
In the fall of 2012, she enrolled at Division III Illinois Wesleyan University in Bloomington, Illinois, to play basketball. In late November, Mullarkey visited friends at the University of Iowa, attended a football game, and wondered what life would be like at a larger school. Specifically, what life would be like as a Hawkeye.
 
Mullarkey returned to Illinois Wesleyan and played in 13 of the Titans' first 14 games, pulling down 43 rebounds to go with 18 points, 11 assists, and six steals. She left school at semester and returned home to contemplate her future. For once, a summer was spent playing traveling softball, not basketball, and Mullarkey yearned for an opportunity to return to the diamond at first base. She wanted to do it as a Hawkeye.
 
"I focused so much on basketball and worked hard to get recruited (in high school)," Mullarkey said. "Softball was fun and relaxing. I played softball my whole life and it was one of the other sports I loved doing. The summer before I came here I said I was going to work out and try out for the (Iowa) softball team when I arrived."
 
Her first season in 2014, Mullarkey played in 33 games and batted .204 in 54 at-bats. Adjustments were made after what she called a transition year; Mullarkey needed more work to develop her game. Offensive production increased to .261 with 11 extra-base hits as a sophomore and .286 with 23 extra-base hits and nine home runs as a junior. She stole 13-of-15 bases in 2016.
 
"She has been consistent," Looper said. "A lot of times you get someone who is hot, but they are streaky. The building of her confidence has allowed her to be consistent and one at-bat is not her whole season; one error at first base is not the whole season or the whole game. That allows her to be consistent and be a leader. Now she has become more of a vocal leader than she used to be when she just went and played."
 
Mullarkey is majoring in sports management with a human relations minor and an entrepreneurship certificate. She dreams of being a college coach and will get experience this summer as an assistant for the West Branch (Iowa) High School softball program. In the near future she aims to lead the Hawkeyes for five games at the Judi Garman Classic in Fullerton, California, from March 2-4.
 
And in the meantime, "Chip" will continue to feast on steak burrito bowls with no beans, mild salsa, cheese, sour cream, and guacamole.