Hawkeye Fan Shop — A Black & Gold Store | 24 Hawkeyes to Watch 2016-17 | Hawk Talk Monthly — Feb. 2017
| | |
| --- | --- |
| Dates: | March 3-5, 2017 |
| Location: | Minneapolis, Minn. (U.S. Bank Stadium) |
| Game Notes: | IOWA | Hawai'i | Oral Roberts | Minnesota |
| Statistics: | IOWA | Hawai'i | Oral Roberts | Minnesota |
| | |
| Radio/Streaming: | Hawkeye All-Access |
| Live Stats: | Game 1 | Game 2 | Game 3 |
| Video Streaming: | BTN Plus (Sunday) |
| | |
| Game 1 | March 3 | 12:15 p.m. (CT) | vs. Hawai'i | |
| Pitching Matchup:  | Iowa: Jr., RHP Nick Gallagher (1-0, 1.93 ERA) |
| | UH: Sr., RHP Brendan Hornung (0-1, 1.20 ERA) |
| Game 2 | March 4 | 12 p.m. (CT) | vs. Oral Roberts | |
| Pitching Matchup: | Iowa: So., RHP Cole McDonald (1-1, 7.50 ERA) |
| | ORU: So., RHP Josh McMinn (1-0, 1.50 ERA) |
| Game 3 | March 5 | 3 p.m. (CT) | vs. Minnesota | |
| Pitching Matchup: | Iowa: Sr., RHP Drake Robison (0-0, 4.50 ERA) |
| | MINN: Sr., RHP Toby Anderson (0-1, 12.86 ERA) |
THIS WEEK
The University of Iowa baseball team heads north to Minneapolis to compete in the DQ Classic from March 3-5.  The Hawkeyes open play Friday at 12:15 p.m. (CT) against Hawai'i, face Oral Roberts at noon Saturday, and square off against Minnesota in a nonconference contest at 3 p.m. Sunday.    All three games will be played at the state-of-the-art U.S. Bank Stadium in downtown Minneapolis, the new home of the Minnesota Vikings.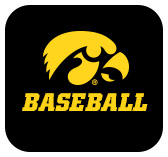 GAME COVERAGE
• Iowa's live audio stream of the three games will be available on Hawkeye All-Access with Zach Mackey on the call.  Steve Duncan will serve as the color analyst. 
• All games will be carried on select stations around the state via the Hawkeye Radio Network.  All three games this weekend will be on WDBQ in Dubuque; Saturday's game will also be on KKFD in Fairfield.
• Sunday's game against Minnesota will be streamed live on BTN Plus on BTN2Go.
• Live statistics will be available at www.hawkeyesports.com and fans can follow the action via Twitter/UIBaseball.
IOWA TIDBITS
• The Hawkeyes are tied for third in the Big Ten with six home runs in seven games.  Junior Jake Adams is tied for fourth in the league with two home runs.
• Iowa scored a season-high 14 runs in a 14-7 victory over Morehead State on Feb. 26; the Hawkeyes had a season-best 15 hits in a 9-2 win over Alabama State on Feb. 24.
• The Hawkeyes rank in the top 20 in the nation in double plays. Iowa has turned nine double plays in seven games to rank 17th nationally.
• After scoring eight runs in its season-opening series at South Florida, the Hawkeyes averaged 8.5 runs per game over the next four contests.
• The Hawkeyes had 13 extra-base hits (10 doubles, three home runs) during the Hoover Classic. 
• Sophomore Robert Neustrom is a preseason All-Big Ten selection by Perfect Game.  The outfielder is the Hawkeyes' top returning hitter, batting .307 as a true freshman.
• The Hawkeyes are picked to finish in a tie for sixth place in the Big Ten in a vote of the league's 11 head coaches. Iowa is also tabbed to finish eighth in the conference by Perfect Game and ninth by D1Baseball.com.
HAWAI'I NOTABLES
• The Warriors have won two straight games, improving their record to 3-4 overall. Hawai'i faces Minnesota on March 2 before opening play in the DQ Classic. 
• Hawai'i took one game from No. 6 NC State during the opening series of the regular season. The Warriors won game two, 8-3.
• The Warriors are hitting .202 as a team and average 2.4 runs per game. Josh Rojas leads the team with six hits and a .250 average.
• Hawaii has been strong on the mound, posting a 2.69 team ERA.  The Warriors have 43 strikeouts over 67 innings and are limiting opposing hitters to .219.
• The Warriors will start senior RHP Brendan Hornung, who is 0-1 with a 1.20 ERA.  He has allowed two runs on 12 hits with 15 strikeouts to two walks.
ORAL ROBERTS NOTABLES
• The Golden Eagles bring a 7-1 record into the DQ Classic with their only loss coming Feb. 21 against Missouri State. Oral Roberts has a home series sweep over UALR and road series sweep at Alabama this season .  On Tuesday, ORU beat Kansas, 12-1, for its fourth straight victory.
• Oral Roberts is hitting .288 as a team with three regulars hitting above .300. Noah Cummings has a .469 average with 15 hits, four home runs, 13 RBIs, and seven runs.  
• The Golden Eagles' pitching staff has a 3.32 team ERA with 67 strikeouts over 76 innings.  Sophomore RHP Josh McMinn (1-0, 1.50 ERA) will start against Iowa.  He has allowed two runs on 12 hits over 12 innings, fanning nine without issuing a walk.
MINNESOTA NOTABLES
• The Gophers are 4-2 with a Thursday night game scheduled against Hawai'i before the weekend's DQ Classic.  Minnesota opened the season with an impressive road split at UC Irvine.
• Minnesota is hitting .339 as a team with five regulars hitting over .300.  Luke Pettersen has 14 hits in 21 at-bats for a .667 average to go along with six RBIs. Three Gophers have six or more RBIs.
• The Gophers' pitching staff has a 5.26 team ERA, allowing 32 runs (31 earned) over 53 innings.  Minnesota had 43 strikeouts to 35 walks in six games.  
• Senior RHP Toby Anderson will start for Minnesota. He is 0-1 with a 12.86 ERA this season.
• Minnesota leads the Big Ten in fielding percentage, making just two errors in six games, for a .991 clip.  The Gophers are second with the .339 team average and rank in the top five in the league in slugging and on-base percentage, runs, hits, and RBIs.
SERIES RECORD
• Iowa is 1-1 all-time against Hawai'i. The two teams last met in 1983 during the Rainbow East Tournament.
• The meeting against Oral Roberts will be the first in the all-time series.
• Minnesota leads Iowa, 180-117, in the all-time series. The two teams split four meetings in 2016; the Gophers won two of three games during the regular season before Iowa claimed a 8-2 victory in the opening game of the Big Ten Tournament.
MCCOY EARNS B1G HONOR
Senior Mason McCoy earned Big Ten Player of the Week honors on Feb. 27 after hitting .438 with seven hits, six runs, and six RBIs in leading Iowa to a 3-1 record.  The honor is the second of McCoy's career.
APPROACHING 800 IN YEAR 30
UI head coach Rick Heller is in his 30th season as a college head coach and he needs just five victories to join the 800-win club.  Heller is the winningest coach in his first three seasons in program history.
NEUSTROM'S STRONG START
Sophomore Robert Neustrom has hit safely in all seven games to open the 2017 season.  It a career-long hitting streak.
• He has four multi-hit games — tied for the team lead — and is hitting .379 on the year to rank second on the team.  Neustrom is hitting .500 (5-of-10) with runners in scoring position.
• Neustrom hit his first home run of the season — and second of his career — Feb. 25 against Alabama State.
• Neustrom had 12 multi-hit games the entire 2016 season — a season where he hit .307 as a true freshman.
MCCOY'S CARRYOVER
Senior Mason McCoy ended his junior season riding with a 13-game hitting streak and he has hits in 7-of-8 games to start the 2017 season.  Over his last 20 games dating back to last season, McCoy is hitting .413 with 36 hits and 19 RBIs.  He has 12 multi-hit and five multi-RBI games during the stretch.
• This season McCoy ranks in the top 10 in the Big Ten in five offensive categories. He is fifth in slugging percentage (.704), sixth in total bases (19), tied for seventh in on-base percentage (.500), runs (8), and hits (11), and eighth in batting average (.407).
COLE, DRAKE: ROUND 2
Sophomore Cole McDonald and senior Drake Robison will make their second straight weekend starts at the DQ Classic. 
• McDonald allowed four runs on seven hits over four innings Feb. 25 against Alabama State in a 4-3 loss.  
• Robison allowed three first-inning runs Feb. 26 against Morehead State before settling down. He allowed three runs on seven hits over four innings in a no-decision.
C.J. SIDELINED
Junior C.J. Eldred will miss his second straight start this weekend at the DQ Classic.  Eldred's ulnar nerved flared up following his season-opening start at South Florida.  The right-hander is 0-0 with a 1.50 ERA this season.
OFFENSIVE TIDBITS
• Sophomore Chris Whelan moved to the leadoff position against Morehead State and produced his best game as a Hawkeye. The Illinois native finished 3-for-4 with two RBIs and a run scored and reached base four times. 
• Junior Matt Hoeg has hits in 5-of-6 games this season, including four straight contests. The infielder hit .500 (5-for-10) with three doubles and four runs scored at the Hoover Classic. He had two multi-hit games during the weekend.
• Mason McCoy has three-straight two-hit games heading into the DQ Classic.  The Illinois native is tied for the team lead with four multi-hit games this season.
• Sophomore Mitchell Boe is tied for the Big Ten lead with seven walks.  
• Seven different Hawkeyes have had a multi-RBI game this season.  
• Junior Jake Adams has reached base safely in six straight games.  Adams has two multi-hit games during the stretch.
BALLS & STRIKES
• Iowa's pitching staff ranks in the top-five in the Big Ten in ERA (3.84), opposing batting average (.251), innings (61.0), strikeouts (57), and strikeouts looking (17).
• Since getting tagged with the loss at South Florida on Opening Day, sophomore Zach Daniels has tossed four shutout innings. He went a career-long three innings and picked up the win in a 14-7 victory over Morehead State.
• Junior Nick Nelsen has yet to allow a hit in three appearances as a Hawkeye. He has four strikeouts over 5 1/3 innings. Nelsen threw four perfect innings against Alabama State on Feb. 25.
INSERT BIG BOPPER
The Hawkeyes will insert a power-hitting threat in the middle of the lineup in junior Jake Adams.  The South Dakota native will take over first base duties after hitting 25 home runs last year during an All-America season at DMACC.  As a team, Iowa hit 26 home runs in 2016.
• In two junior-college seasons, Adams hit 42 career home runs — a DMACC record.  He was among the nation's leaders in home runs, slugging percentage and total bases.
MCCOY SLIDES TO SHORT
Senior Mason McCoy will slide to his left and take over as Iowa's starting shortstop in 2017.  McCoy started all 56 games as a junior, primarily at third base.  He hit .291 with 37 runs and 34 RBIs, and was a member of the Big Ten All-Tournament team.  
• McCoy was an Northwest League All-Star selection in both 2015 and 2016, playing for the La Crosse Loggers.
• Iowa has had an all-conference selection at shortstop in each of Rick Heller's first three seasons.  (Jake Yacinich, first-team, 2014; Nick Roscetti, third-team, 2015, first-team, 2016).
JUNIOR NICK GALLAGHER…
• is 9-3 with a 2.40 ERA in 25 career appearances, including 11 starts.
• has two quality starts in 2017 in games against South Florida and Alabama State.  He allowed one run on five hits against the Bulls and two runs on seven hits against the Hornets. Gallagher struck out a season-high seven against Alabama State.
• tied for second in the Big Ten with eight victories as a sophomore, which were the sixth-most in a single-season in program history.
• was named to the 2016 Big Ten All-Tournament team after allowing one hit over six innings and fanning a career-high nine in a victory over Maryland.
JUNIOR  C.J. ELDRED…
• is 3-8 with a 3.32 ERA in 17 career appearances (15 starts).
• notched a quality start in a no-decision, allowing one run on three hits at South Florida (2/18). 
• logged a team-high 94 1/3 innings as a sophomore — the 10th-most in a single season in school history.
• had a team-best seven quality starts with two complete games in 2016.
• is the son of former Hawkeye first round MLB Draft pick and Major Leaguer Cal Eldred. 
TEAM CAPTAINS
Iowa's team captains for the 2017 season are seniors Josh Martsching, Mason McCoy, and Corbin Woods, and junior C.J. Eldred.
FOLLOW THE HAWKEYES
Iowa baseball fans can follow the Hawkeyes on Facebook/iowabaseball, Twitter: @UIBaseball, and Instagram/UIBaseball in addition to coverage on 
hawkeyesports.com.
SEASON TICKETS ON SALE
Season tickets for the 2017 Iowa home schedule are on sale now through the UI Athletics Ticket Office online at hawkeyesports.com or at 800-IA-HAWKS. Reserved and general admission adult tickets are $75, while general admission youth tickets are $40. Fans can also purchase a "30-block" season ticket, priced at $99, where tickets can be used at any game or combination of games throughout the season. Iowa will play 24 home games in 2017.