Hawkeye Fan Shop — A Black & Gold Store | 24 Hawkeyes to Watch 2016-17 | Hawk Talk Monthly — March 2017
Editor's Note: The following first appeared in the University of Iowa's Hawk Talk Daily, an e-newsletter that offers a daily look at the Iowa Hawkeyes, delivered free each morning to thousands of fans of the Hawkeyes worldwide. To receive daily news from the Iowa Hawkeyes, sign up HERE.
By JAMES ALLAN
hawkeyesports.com
IOWA CITY, Iowa — Jake Adams' baseball future was turned upside down two weeks before Des Moines Area Community College (DMACC) was to compete in the 2016 Region XI Tournament.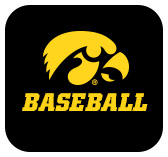 Adams, now a junior on the University of Iowa baseball team, committed to play Division I baseball at the University of North Dakota around Thanksgiving of 2015.  Six months later, in the midst of an All-America season, Adams' future came into question.
 
"We were at practice and I got word," said Adams.  "Two weeks later, it was official. They were trying to get the program back, so I was holding off (moving on)."
 
The word, in Adams' case, was the elimination of the varsity baseball program at North Dakota. Baseball and men's golf were eliminated as part of state-mandated and university-wide budget cuts.
 
"It was hard," said Adams. "I fell in love with North Dakota and had a buddy that played there. When I found out, it was heart-breaking. I had to go through the whole process again."
 
The difference this time in recruiting came down to timing. Would schools have scholarship money and an open roster spot with three months remaining before the 2016-17 academic year began?
 
"I had schools calling me and offering walk-on spots because they didn't have much money left," said Adams. "Thankfully for Sean Moore, he got me to come on a visit to Iowa and I fell in love with it."
 
Moore was Adams' hitting coach at DMACC; he also was a former Iowa baseball player, graduating in 2015 during the program's NCAA Regional-qualifying season.  Moore is currently Iowa's volunteer assistant and hitting coach.
 
"When I came on the visit, the atmosphere, facilities, and coaching staff stood out to me," said Adams. "Everything felt like home."
 
Adams' addition worked out well for the Hawkeyes, too. The Brandon, South Dakota, native gives the team a legitimate power threat in the middle of the order. Adams hit 42 home runs in two seasons at DMACC, including 25 home runs as a sophomore when he garnered first-team All-America honors.
 
Early in the 2017 season, Adams is adjusting to the pitching at the Division I level.  Through seven games he is hitting .231 with seven RBIs and three runs scored.  He has two home runs — a solo shot in a 4-2 win at South Florida on Feb. 18 and a two-run shot in a 9-2 victory over Alabama State on Feb. 24.
 
"The first couple of weeks I struggled a little bit," said Adams. "At USF, I missed a couple of pitches I needed to drive. Last weekend, I was more locked in and got a feel for how everything was going to play out.
 
"Pitchers at this level can locate a lot better, so I have to be looking for my pitch. At this level, pitchers don't make as many mistakes, but when they do, I have be ready to punish it. When I get my pitch, I have to make sure I execute."
 
Adams is grateful for the opportunity to play Division I baseball at the University of Iowa, even if it wasn't his original plan.
 
"In the end, everything worked out the way it was supposed to," he said.
The Hawkeyes open play at the DQ Classic today in Minneapolis, facing Hawai'i at 12:15 p.m. (CT) inside U.S. Bank Stadium.