Hawkeye Fan Shop — A Black & Gold Store | 24 Hawkeyes to Watch 2016-17 | Hawk Talk Monthly — March 2017 | 24 Hawkeyes to Watch: Sammy Brooks | Wrestling Season Ticket Wait List | 2017 NCAA Wrestling Central | 2017 Brackets
 
Editor's Note: The following first appeared in the University of Iowa's Hawk Talk Daily, an e-newsletter that offers a daily look at the Iowa Hawkeyes, delivered free each morning to thousands of fans of the Hawkeyes worldwide. To receive daily news from the Iowa Hawkeyes, sign up HERE.
 
By DARREN MILLER
hawkeyesports.com
 
ST. LOUIS — Cory Clark needed no reminder of past championship shortcomings, but the NCAA provided one anyway. Actually, there were several.
 
While the Gateway Arch is still a visual fan favorite in St. Louis, spectators attending the NCAA Wrestling Championships in St. Louis from March 16-18 were saturated with block after block of street banners promoting the annual matfest. On the right side of the banner was a picture of the championship trophy, on the left was an image of Cornell's Nahshon Garrett controlling Clark during the 2016 133-pound final — a 7-6 win by Garrett.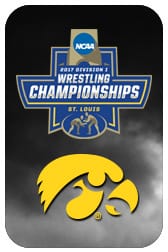 "Oh yeah, I noticed them," Clark said. "I thought it was meant to be that this is my time to win a national championship."
 
Clark won for the first time in three trips to the NCAA finals on Saturday evening at the Scottrade Center. What most would call incredible, Clark downplays as "aw, shucks." After the sweat dried from a 4-3 championship victory over Seth Gross of South Dakota State, Clark revealed that he competed most of the season (and all of the 2017 calendar year) with torn ligaments in his left wrist, complemented by a left shoulder that would exit its socket on a whim.
 
"I hate talking about this stuff, I don't want people feeling sorry for me or this becoming some sort of Cinderella story," Clark said. "It's not incredible what I did. I just did what I do. This is what I'm about."
 
Clark is Iowa's first three-time NCAA finalist since Matt McDonough (2010-12) and first champion since Tony Ramos in 2014 (also at 133 pounds). Perhaps more impressive is that he becomes the 19th Hawkeye to earn four All-America honors, and the first since Derek St. John (2011-14).
 
"There are a lot of emotions behind it, especially when you are going into the last year and you are expected to be a top competitor," said St. John, now an assistant coach at Virginia Tech. "But he has been dealing with that his whole life. He is a four-time (Iowa) state champ and a four-time All-American."
 
Clark, a native of Pleasant Hill, Iowa, placed fifth as a freshman in 2014 at 125 pounds, and was the 133-pound runner-up in 2015 and 2016. He entered the 2017 NCAA Championships with a record of 14-3. He was 7-0 in November and went 7-3 from January to March. His three losses were to All-Americans Kaid Brock (Oklahoma State), Eric Montoya (Nebraska), and Nathan Tomasello (Ohio State). According to associate head coach Terry Brands, Clark learned from all three setbacks.
 
"It's the mental prowess to move on from a loss and being able to handle the victory if all of the sudden you think you're the BMOC (Big Man On Campus)," Terry Brands said. "You have to be able to overcome obstacles. (Clark) was never fazed by it; He knew he got beat and knew he had to get better. You saw the adjustment and growth."
 
In the first round of the 2017 NCAA Championships, Clark blanked Connor Schram of Stanford, 4-0. He then knocked off Pat D'Arcy of Princeton, 10-5. The next to fall was Michigan's Stevan Mcic, 6-4, in the quarterfinals. Three-time Big Ten Champion Tomasello, the No. 1 seed, went down in the semifinals, 7-4.
 
Patience was required for Clark to reach the top of the podium. Iowa head coach Tom Brands refused to insert Clark in the lineup for a regular-season dual against Tomasello and Ohio State on Jan. 27.
 
"He wanted to go, but it was the right call down the stretch," Tom Brands said. "You're a fifth-year senior and you should have patience, but when it's your last year, you want to be on that mat. He was a good soldier every step of the way because he had to be patient."
 
Clark competed in 113 career college matches for the Hawkeyes, winning 98. Following his biggest triumph in St. Louis, he was searching for perhaps his most challenging opponent.
 
"I've always said that one person I would like to wrestle is myself," Clark said. "I want to see what it feels like. I want to see if I'm strong. I want to see how easy it is to get to my leg. I want to see what it feels like when I'm in on my own leg. I would be on bottom — this guy does not want me to get out. I'm on top — this guy will not let me ride him."
 
A Clark vs. Clark matchup could look like two rams colliding from opposite sides of those nifty street banners dotting the St. Louis landscape.
 
But that image — quoting Tom Brands — would be of national champion Cory Clark, one tough son-of-a-gun.