Editor's Note: The following first appeared in the University of Iowa's Hawk Talk Daily, an e-newsletter that offers a daily look at the Iowa Hawkeyes, delivered free each morning to thousands of fans of the Hawkeyes worldwide. To receive daily news from the Iowa Hawkeyes, sign up HERE.
By Cari Gold
hawkeyesports.com
IOWA CITY, Iowa —  Everyone was excited. The Hawkeyes were home. 
Playing at Pearl Field is something the University of Iowa softball team has looked forward to since the season began. In a post on The Dugout, the junior class wrote: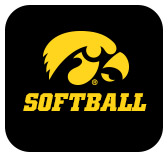 "We could not be more excited to return to Pearl Field. There is truly something special about Hawkeye fans and the supporting community. The loyalty, passion, and dedication our fans exude is unlike anything we've seen and is unique to the experience at Pearl Field. Through thick and thin, Iowa fans have supported us in the stands and in the community, and we look forward to playing hard in front of the best fans in the world."
 
After a grueling non-conference schedule that featured four road tournaments, four ranked teams (including two top 10 teams), and one midweek doubleheader, Iowa went 4-1 during its home-opening weekend at Pearl Field.
 
"The weekend wins were nice," said UI head coach Marla Looper. "I think being home has been a big help. We've been able to find a rhythm and a routine, and we have been able to take care of the ball. When we do that, we have a good chance of success."
 
The return home has rejuvenated the Hawkeyes. Throughout the weekend, the team attributed their success to both playing at Pearl Field and performing the basics offensively and defensively.
 
"We are doing the little things, like taking care of the ball defensively and finding the right zone in the circle," said Looper. "Offensively, we attacked, executed signals, and were able to manufacture runs. When we do that, it's a recipe for success, and we did those things tonight."
 
Throughout the season, Iowa has focused on one goal each time they stepped to the plate: quality at-bats. A quality at bat is not just getting a hit. It could mean drawing walk, getting hit-by-a-pitch, reaching on an error, advancing a runner, or having a six-plus pitch at-bat.
 
By focusing on quality at-bats, Iowa saw success over the weekend, including a home-opening victory against Valparaiso. Junior Allie Wood was one of several Hawkeyes to have a multi-hit game over the weekend as she went 2-for-3, including hitting her third home run of the season, against Valparaiso.
 
After the home run, Wood celebrated with her teammates in a way that showed how excited the team was to finally be home. She threw up a Hawk claw as she hit home plate.
 
"I was talking to Chip (Kaitlyn Mullarkey) before the game, and I mentioned how cool it would be if someone threw up a Hawk claw when they hit a home run," said Wood. "After my home run, I jumped on home plate to make a noise and I just threw up a Hawk claw. Chip jumped on my back to celebrate, because we have been lifting each other up through the season. I'm glad we were able to have that moment at home in front of our fans."
 
After an exciting home opening weekend, the Hawkeyes are prepared to take that momentum into Big Ten action.
 
"This is great for us going in to conference," said Mullarkey. "Conference starts a new season with a 0-0 record, and these wins are going to help us maintain that drive and focus once we start Big Ten play."
 
Iowa faces Illinois in its conference opener Friday at 5:30 p.m. (CT) at Pearl Field. The Hawkeyes take on the Fighting Illini again Saturday at 1 p.m. before concluding the three-game series Sunday at noon.