Hawkeye Fan Shop — A Black & Gold Store | 24 Hawkeyes to Watch 2016-17 | Hawk Talk Monthly — April 2017 | VIDEO — Alex, Amy, & Allen
Editor's Note: The following first appeared in the University of Iowa's Hawk Talk Daily, an e-newsletter that offers a daily look at the Iowa Hawkeyes, delivered free each morning to thousands of fans of the Hawkeyes worldwide. To receive daily news from the Iowa Hawkeyes, sign up HERE.
By DARREN MILLER
hawkeyesports.com
IOWA CITY, Iowa — By ancestry, Alex Rath was born for the softball diamond. By ancestry, that diamond had to be Pearl Field.
 
Rath is a freshman walk-on for the University of Iowa softball team. Her mother, Amy (Hartsock) Williams, played for the Hawkeyes from 1990-92, earning second-team All-Big Ten honors as a senior. Alex's father, Allen Rath, pitched for the Iowa baseball team from 1987-90, winning 25 games (tied for most in school history) and striking out 246 (most in school history).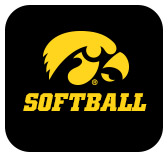 "It means a lot because we grew up a Hawkeye family," Alex said. "Iowa has a tradition of competing at the highest level, whether it be education or sports. I was raised that way and now I'm carrying on that tradition."
 
Alex graduated from Mid-Prairie (Iowa) High School in 2016. Like her parents, she shined at multiple sports in high school: basketball, softball, and track and field. The Golden Hawks advanced to the state softball tournament from 2012-14, when Alex was an eighth-grader (sixth in Class 3A), freshman (fifth), and sophomore (fifth).  She landed on several all-district and all-state teams, including first-team all-state as a senior when she batted .509 with 34 stolen bases.
 
As her high school days waned, Alex contemplated where she would attend college and play softball.
 
"My goal was just to play somewhere," Alex said. "Iowa was always in the back of my head because that is where I wanted to go."
 
And it was close to family who lived in and around her hometown of Kalona, Iowa. Alex arrived at her decision without pressure from mom or dad, two influential Hawkeye alumni who promoted happiness above heredity.
 
"You can go wherever you want because we will be proud of you either way," Alex recalls her parents saying.
 
"I never persuaded her which way to go," Allen said. "She chose Iowa and I know this is where she wanted to go. She is happy and what makes her happy makes me happy."
 
"We told her that just because we went to Iowa, don't feel like you have to," Amy said. "I'm glad she is here and that she gets to follow her dream."
 
Despite being a Hawkeye legacy who imagined attending the University of Iowa, Alex wasn't a slam dunk to end up in Iowa City. There were smaller schools that guaranteed more playing time, but something always kept Alex from committing. In retrospect, that something was an opportunity to become a Hawkeye.
 
Alex took several college visits, and even though she was impressed by other institutions and their athletic programs, they were not the University of Iowa.
 
"She had some colleges she really liked, but something always held her back from saying yes," Amy said. "She kept saying, 'I want to play at Iowa, I want to play at Iowa,' and I got that."
 
So Amy, a successful former high school softball coach, took Alex to Carver-Hawkeye Arena to meet Hawkeyes' head softball coach Marla Looper and get information about becoming a walk-on.
 
"I said I would go through the tryout process and do my best to get on the team," Alex said.
 
Still, nothing was guaranteed. Alex worked extra on hitting with her mother and former Iowa head coach Gayle Blevins.
 
"Over the summer coach Looper said I could have a walk-on spot and it went from there," Alex said.
 
Allen recalls the day Alex disclosed her college decision. He was traveling home from his job in medical sales when Alex sent a text for him to check her Facebook post. That's where she announced that she would attend Iowa.
 
"I had tears," Allen said. "It touched my heart and it still does. I'm a Hawkeye fan, I bleed black and gold, and for her to be here as well is moving."
 
Like most first-year players, Alex is easing her way onto the field. Through the first 33 games of the 2017 season, she has played 20 games with seven starts. Alex earned her first start March 2 against Fresno State, playing right field and getting on base three times in four plate appearances from the leadoff spot. She was 2-for-3 with a run and a walk. On defense, Alex had three putouts and an assist.
 
"It showed I could play with everyone, even though I am just a walk-on," Alex said.
 
Amy's story of coming to Iowa shares similarities to Alex's. Amy was raised in Frytown, 17 miles outside Kalona, and her father would take her to University of Iowa sporting events. As a senior in high school, Amy wasn't being recruited by Iowa, but she wanted to continue to play basketball or softball, so she enrolled in junior college.
 
"By the end of my freshman year I decided I wasn't going back," Amy said. "I was going to try my luck at Iowa. If I couldn't play at Iowa, I was going to give it up."
 
She joined a summer softball league and caught Blevins' attention. Soon, Blevins called and offered Amy a scholarship.
 
"It was one of those, 'You had me at hello' moments," Amy said. "It was like, where do I sign?"
 
In her first season as a Hawkeye, Amy played in 71 games (tied for most in school history) and had 207 at-bats (ninth in school history).
 
"It was one of the hardest things and one of the best things I have ever done," said Amy, an occupational therapist. "Your mom and dad get you ready to go out on your own and go to college, but that experience at Iowa got me ready for the rest of my life. All of my teammates feel like sisters, so I have a huge family now. Alex has a ton of adopted aunts."
 
Allen was heavily recruited as a pitcher out of Highland (Iowa) High School. He was drafted in in the 15th round by the Cincinnati Reds in 1986 and in the 47th round by the California Angels in 1989. As a Hawkeye freshman, he led the team with 76 strikeouts and a 3.32 earned run average. The following season he topped the pitching staff with 77 strikeouts and six victories. When Allen was a senior in 1990, the Hawkeyes won the Big Ten Championship and advanced to the Northeast Regional in Waterbury, Connecticut.
 
"I started looking at Iowa closely because I was a local kid and my family would have a chance to see me play," Allen said. "When Iowa brought Bus Campbell in as a pitching coach, that sold me to sign with Iowa."
 
Alex is the oldest of three Rath siblings. Her sister, Addison, is a junior who led Mid-Prairie's basketball team in points per game last season and her brother, Aidan, is in eighth grade. It is too early to project where Addison and Aidan will further their academic and athletic careers.
 
But if ancestry is any indication…