Hawkeye Fan Shop — A Black & Gold Store | 24 Hawkeyes to Watch 2016-17 | Hawk Talk Monthly — April
Editor's Note: The following first appeared in the University of Iowa's Hawk Talk Daily, an e-newsletter that offers a daily look at the Iowa Hawkeyes, delivered free each morning to thousands of fans of the Hawkeyes worldwide. To receive daily news from the Iowa Hawkeyes, sign up HERE.
By Cari Gold
hawkeyesports.com
IOWA CITYE, Iowa — For former University of Iowa softball student-athlete and current volunteer assistant coach Megan Blank, being a Hawkeye was a dream come true.
 
Her father grew up in Iowa City; her mother grew up in Des Moines and earned two University of Iowa degrees, so the Culver City, California, native grew up a Hawkeye fan. The transition to coaching was less of a certainty.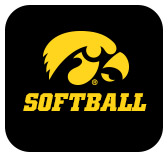 "When I was a freshman and sophomore, I didn't think coaching was something I would be interested in," said Blank. "I didn't feel I had that skill set of putting into words how to make a certain play, especially on defense. But my junior year, I tried to get out of my comfort zone and mentor the underclassmen. My senior year, I started thinking that coaching was something I wanted to do."
 
Blank graduated from Iowa as one of the most decorated players in program history, breaking or tying five school records and finishing in the top 10 in 12 statistical records. Upon graduation, she continued her softball career with the Chicago Bandits of the National Pro Fastpitch League.
 
Although her first few days with the new team were nerve-wracking, Blank settled in and continued to play the game she loves.
 
"I walked in the locker room the first day and I saw several other Big Ten girls I knew of and played against, and they made me feel welcome right off the bat," said Blank. "The vets were awesome, too. Those of us who were new just sat back and stared. I was in awe of how good some of these players were. To get the chance to play alongside them and to compete with them was a dream come true."
 
Living the dream of playing professional softball and learning from the other players cemented Blank's earlier consideration of coaching.
 
"Getting to talk to the other girls on the team and talking about the game has been great," said Blank. "My softball IQ has skyrocketed from playing in the NPF, because you learn about all the different things that different programs around the country do, and you spitball ideas off each other. We spend almost all day every day talking about softball."
 
Playing in the NPF opened the door for Blank to be a volunteer assistant coach at Big Ten foe Northwestern, and Blank jumped at the chance to work with a college program she was familiar with.
 
"It would have been cool to stay at my alma mater right after graduation, but I was still good friends with a lot of girls on the team," said Blank. "The chance to see another program and to not have that personal connection to the players made the transition a lot easier."
 
After one season with the Wildcats, her second summer in the NPF, and a season playing overseas, Blank returned to her Hawkeye family as a volunteer assistant.
 
"To be able to come to practice every day on the field I worked so hard on for four years and put so much of my time and energy into was something I jumped at," said Blank. "To be able to work with infielders and some of the younger girls that I remember seeing on recruiting trips is awesome. I love being back as a Hawkeye."
 
Coming off a Big Ten series win over Rutgers, Iowa returns to action Tuesday, hosting Iowa State in an Iowa Corn Cy-Hawk Series matchup at 6 p.m. (CT) at Pearl Field.