Hawkeye Fan Shop — A Black & Gold Store | 24 Hawkeyes to Watch 2016-17 | Hawk Talk Monthly — April 2017 | VIDEO — Hawkeyes are Hot
By DARREN MILLER
hawkeyesports.com
IOWA CITY, Iowa — The University of Iowa softball team spent the evening of March 15 driving four hours back from Columbia, Missouri. The Hawkeyes spent three hours earlier that day at Missouri Stadium, where in two games, they combined for nine hits, three errors, and zero runs.
 
It marked consecutive losses No. 15 and 16 for Iowa, a team many viewed as being on life support as it headed to Pearl Field two days later for a home-opener in the Hawkeye Invitational.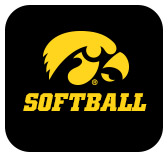 "Confidence was low, but our morale was still good," Iowa head coach Marla Looper said.
 
"It's hard because of what happened in the past, but coming home is one of the greatest things," said junior outfielder Cheyenne Pratt.
 
One win turned into two. And in the next four days, the Hawkeyes tacked on four victories — all by shutout.
 
But that was nonconference. How would Iowa fare against Big Ten Conference competition?
 
The Hawkeyes were swept at home by Illinois, then went on the road and won a series against Purdue. The following weekend they took a 5-4 lead in the series rubber match at Wisconsin before falling, 6-5 in 10 innings, to a team that entered the game with 24 victories.
 
"The coaching staff has confidence in the team. We know their ability," Looper said. "The challenge is executing that ability and them believing in their ability. We did a good job of reminding them they are capable of doing what is in front of them, they just had to trust it."
 
Did they ever.
 
On Tuesday, April 11, the Hawkeyes traveled to Cedar Falls, scored four runs in the top of the first inning, and defeated Northern Iowa, 4-2. The following day they swept Big Ten rival Nebraska, 4-3 and 5-2, on Pearl Field. It was Iowa's first win over the Cornhuskers since 2013.  
 
On April 14, freshman pitcher Allison Doocy tossed her fourth shutout as Iowa blanked Rutgers, 2-0. Her one-hitter with a career-high 10 strikeouts helped Doocy earn Big Ten Freshman of the Week honors. The next afternoon, the Hawkeyes overcame a 4-0, fourth-inning deficit to defeat the Scarlet Knights, 5-4, for their fifth consecutive win and eighth in 10 games.
 
"They have not quit. I don't think they understand that word and that is a good thing," Looper said. "It's hard to fight and still not get what you want. Seeing them start to smile and continue to play the game and finally seeing outcomes go their way has been enjoyable."
 
Pratt has held the hottest bat during the past 11 games (Rutgers scored two runs in the top of the seventh inning to win Sunday, 2-0). She has batted .438 (14-for-32) with five runs, a triple, and two stolen bases. During the five-game winning streak, Pratt hit .500 (7-for-14); she scored the winning run in game two against Rutgers after she belted a triple to lead off the bottom of the sixth inning, then scored on a sacrifice bunt by Claire Fritsch.
 
"It was the mental approach," Pratt said. "It was not letting the game take control of us, but having ourselves take control of the game. Playing together is the biggest thing you can do to get wins."
 
In five victories over Northern Iowa, Nebraska, and Rutgers, the Hawkeyes batted .297, compared to .229 for opponents. They also enjoyed statistical advantages in runs (20-11), extra-base hits (9-6), on-base percentage (.379 -.266), stolen bases (5-3), and fielding percentage (.953-.948).
 
On the mound, Iowa pitchers fanned twice as many as opposing pitchers (32-16) and had a 1.40 ERA compared to 3.57 for their opponents.
 
In the last 11 games, five Hawkeyes are batting .270 or better: Pratt (.438), Angela Schmiederer (.355), Kaitlyn Mullarkey (.324), Fritsch (.286), and Allie Wood (.270). Lea Thompson scored nine runs during that span. Doocy was 5-1 with a 1.26 ERA and 44 strikeouts in 44 innings pitched.
 
"The mindset was to change, go out and do our best, leave it all on the field, play for each other, and do whatever we could to get that win," Pratt said.
 
The Hawkeyes take a record of 14-24 overall, 7-7 in the Big Ten into Tuesday's nonconference game against Iowa State (16-30). With an overwhelming 18-7 cushion, Iowa has already clinched the annual Iowa Corn Cy-Hawk Series.
 
"It's a Hawkeye state and we have to keep proving that," Looper said. "The challenge is not getting too hyped about it and play the game like we know how: Step on the field with the right attitude and give all the effort you have. To finish this Cy-Hawk series strong would be nice."
 
First pitch is scheduled for 6 p.m. (CT) from Pearl Field.