Hawkeye Fan Shop — A Black & Gold Store | 24 Hawkeyes to Watch 2016-17 | Hawk Talk Monthly — May
Editor's Note: The following first appeared in the University of Iowa's Hawk Talk Daily, an e-newsletter that offers a daily look at the Iowa Hawkeyes, delivered free each morning to thousands of fans of the Hawkeyes worldwide. To receive daily news from the Iowa Hawkeyes, sign up HERE.
By CARI GOLD
hawkeyesports.com
IOWA CITY, Iowa — The end of a season is bittersweet for student-athletes, but for the four seniors on the University of Iowa softball team, the end of the season also means the end of an era.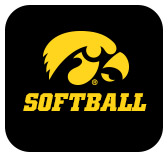 As Claire Fritsch, Kaitlyn Mullarkey, Shayla Starkenburg, and Elizabeth Wiegand prepare for their final games as Hawkeyes, they reflected on their decisions to attend Iowa all those years ago.
 
"Iowa was the right choice for me because of the girls on the team and the coaches," said Wiegand. "From the first time I visited, the team has been my family. I've made some of the best friends I've ever had in my life, and these friendshahips will last forever, so it's clear to me that I was meant to come here to meet those people."
 
Moving away from home is often nerve-wracking, especially when you attend a university away from home. Having friends on the softball team helped alleviate those nerves when Fritsch arrived on campus four years ago.
 
"Stepping on campus and being part of the team, you automatically have friends," said Fritsch. "Getting to branch off of the different athletic programs and making other relationships from that has made college amazing. I don't know what it would have been like without softball."
 
Adjusting to the college lifestyle can be difficult. Playing softball helped the four seniors not only adjust to college, but through their time as Hawkeyes, the sport has helped prepare them for life beyond graduation as well.
 
"Being a Division I athlete, there are a lot of extra requirements that normal college kids don't have to experience, but through those I have learned a lot about time management and having to set priorities," said Starkenburg. "I have to plan my schedule to make sure I'm on time to everything that I do. Through softball, a lot of my experiences have shaped me for my future to help me excel in whatever I do with my career."
 
The four seniors have had their share of good memories, such as stunning Minnesota, 2-0, in the 2015 Big Ten Tournament, or shocking top-ranked Michigan, 6-4, in Ann Arbor in 2015. One thing is certain: the seniors are going to miss playing in a Hawkeye uniform with their best friends.
 
"I'm going to miss competing," said Mullarkey. "I'm going to miss going out and playing with my teammates. It's going to be hard not being able to play again. That's one of my favorite things about this journey, just going out and competing with my teammates."
 
As with every team, there have been bumps along the way, but the experience of playing softball and earning a degree from the University of Iowa is something they would not trade for the world.
 
"My experience here has been great," said Mullarkey. "There's always a helping hand in whatever you need, whether it is for athletics or academics or even in the community. Iowa City is just a great place and everyone is so friendly. I will always take pride in being a Hawkeye and will never stop saying 'Go Hawks.'"
 
"The support I have had at Iowa has been outstanding," said Starkenburg. "From the coaches to the academics, they set us up for success. I've had a great experience with the team and my education has been phenomenal. I can't thank this university enough for the opportunity I've had."