Hawkeye Fan Shop — A Black & Gold Store | 24 Hawkeyes to Watch 2016-17 | Hawk Talk Monthly — May 2017
Editor's Note: The following first appeared in the University of Iowa's Hawk Talk Daily, an e-newsletter that offers a daily look at the Iowa Hawkeyes, delivered free each morning to thousands of fans of the Hawkeyes worldwide. To receive daily news from the Iowa Hawkeyes, sign up HERE.
 
By RICK BROWN
hawkeyesports.com
 
IOWA CITY, Iowa — It was a career-changing letter, written by Jim Sundberg's second-grade teacher in Galesburg, Illinois, and mailed to the baseball office at the University of Iowa.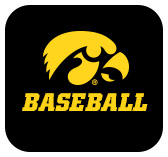 "I can't remember her name now," Sundberg said. "But she went to Iowa."
 
His teacher suggested, in no uncertain terms, that the Hawkeye coaches were missing the boat on Sundberg, who had received no scholarship offers at the time.
 
"And they responded," Sundberg said. "They came out to see me based on that letter."
 
Head baseball coach Dick Schultz and his assistant, Duane Banks, went to see Sundberg's Galesburg team play in an American Legion contest in Iowa City.
 
"It was the best single day I ever had in baseball," Sundberg said. "It was a doubleheader. I hit two or three home runs and drove in like 10 or 11 runs and they offered me a scholarship."
 
Sage move, since Sundberg became one of the greatest players in Iowa baseball history. He returned to town last weekend for the first time in two decades to take part in the 45th reunion of Iowa's 1972 College World Series and Big Ten championship team.
 
"Coach Banks did a great job of coaching," Sundberg said. "We were having fun and playing well."
 
Sundberg was drafted in the first round of the secondary free agent draft by Texas in January of 1973, and passed on his final season of eligibility to pursue professional baseball. He ended up playing 16 Major League seasons — and 1,962 games — for the Texas Rangers, Milwaukee Brewers, Kansas City Royals, and Chicago Cubs. His final season was 1989, when he was on his second tour of duty with the Rangers. He then moved to the front office, retiring in 2014 as senior executive vice president of the Rangers.
 
"My daughter asked me one time how many Major League games I'd seen or played in," Sundberg said. "I counted them up and it was like 5,600. I do fly-bys with the box scores now, and every few days I look at the standings and see what's going on. I'm more interested in my nine grandchildren; those are the games I watch now."
 
Sundberg was a three-time All-Star, and was known for his elite defense. He won six consecutive Gold Gloves from 1976 to 1981.
 
"I probably should have had nine," Sundberg said. "I'm a little sensitive about that. I should have won a couple on the front end and one on the back end of that six-year stretch. That's how I made it to the big leagues, on my defense. I started to hit about my fourth year, and I had five or six years that were pretty good.  As my career went on I became a smarter hitter and I hit when it counted more."
 
Sundberg's most memorable season was 1985, when he helped the Kansas City Royals win the World Series over the St. Louis Cardinals.
 
"The pressure for us was getting to the postseason," Sundberg said. "We had to come from seven games back at the All-Star break and caught Anaheim the second week of September. We went back and forth for three or four weeks after that. They came in (to Kansas City) to play a four-game series the last weekend of the season. We won three out of four, and we were the first team in Major League history to get behind three games to one (in the World Series) and then come back and win."
 
Sundberg stood the test of time for 16 Major League seasons.
 
"No one really expects to play 16 years," Sundberg said. "There's a period where if you can't learn to make adjustments, you're not going to play very long. You work hard and get better. For me, I got better when I started playing every day. In college, we played doubleheaders three days a week."
 
It was a letter than opened the door of opportunity for Sundberg at Iowa. It was another letter, from a professional scout, that tells the story of Sundberg's journey to the Major Leagues.
 
"One day, I got a letter from a scout who saw me when I played at Iowa," Sundberg said. "The cover letter said, 'Now that you're in the big leagues, you can probably appreciate the report I turned in on you.' So I opened it up. It said, 'I tend to think he's a better catcher than he showed me today. He threw the ball into center field five times.'"
 
History tells us that Sundberg was a better catcher than he showed that day. He has three All-Star appearances, a World Series ring, six Gold Gloves, and 16 Major League seasons as proof.