Hawkeye Fan Shop — A Black & Gold Store | 24 Hawkeyes to Watch 2016-17 | Hawk Talk Monthly — May 2017 | B1G Baseball Tournament Central | Game Notes — vs. Minnesota (PDF)
| | |
| --- | --- |
| Date: | May 27, 2017 |
| Location: | Bloomington, Ind. (Bart Kaufman Field) |
| Game Notes: | IOWA | Minnesota |
| Statistics | IOWA | Minnesota |
| | |
| Radio/Streaming: | Hawkeye Radio Network | Hawkeye All-Access ($) |
| Live Stats: | Live Stats  |
| Television/Video Streaming: | BTN | BTN2Go   |
| | |
| Game 3 | May 27 | 9 a.m. (CT)  | |
| Pitching Matchup:  | Iowa: LHP Elijah Wood (1-0, 4.38 ERA) |
| | MINN: TBA |
NEXT UP
The fifth-seeded University of Iowa baseball team faces third-seeded Minnesota in a Big Ten Tournament semifinals matchup Saturday morning at 9 a.m. (CT) at Bart Kaufman Field in Bloomington, Indiana.  The Hawkeyes need one win to advance to Sunday's Big Ten Tournament title game for a second straight year; the Golden Gophers will need to beat Iowa twice to advance.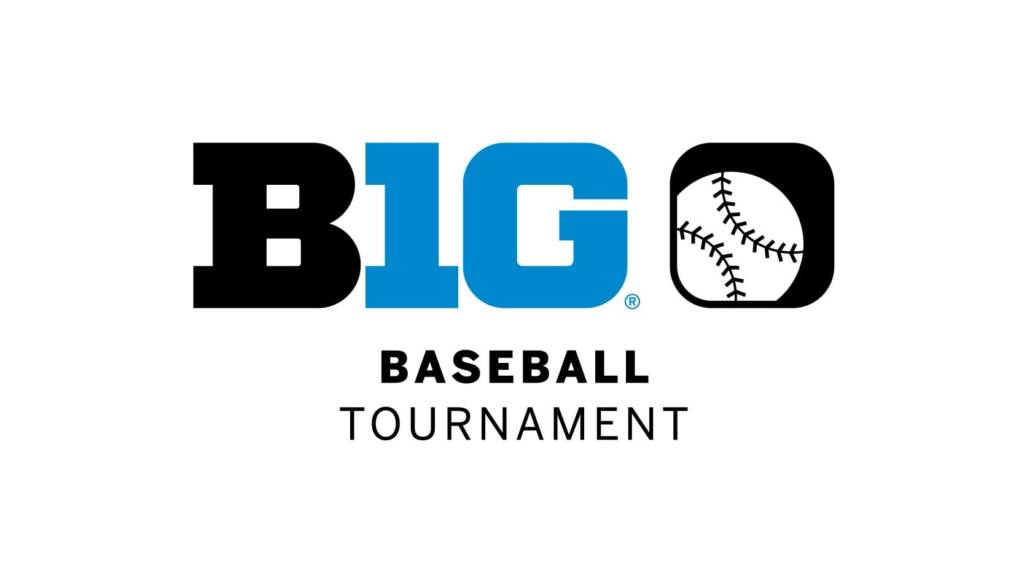 GAME COVERAGE
• The duration of the Big Ten Tournament will be carried on select stations around the state via the Hawkeye Radio Network and be streamed online via Hawkeye All-Access with Zach Mackey and Steve Duncan on the call.
• Saturday's game will be available on AM-800 KXIC in Iowa City and on WDBQ in Dubuque.  
• Saturday's semifinal will be televised on BTN and be available on BTN2Go.  Brandon Gaudin and Danan Hughes will be on the call. 
• Live statistics will be available at www.hawkeyesports.com and fans can follow the action via Twitter/UIBaseball.
PITCHING MATCHUP
• Iowa will send junior Elijah Wood to the mound for his seventh start of the season.  The southpaw is 1-0 with a 4.38 ERA over 37 innings in his first season as a Hawkeye.  He has 17 strikeouts to nine walks.  Wood made his first weekend start April 29 against Penn State.
• Wood had his worst and best starts in his last two outings. He allowed six runs on seven hits in two innings May 14 against Ohio State — a game the Hawkeyes rallied to win 11-10 in walk-off fashion. On May 19, Wood surrendered a three-run, first-inning home run at Illinois before tossing 6 1/3 innings of shutout ball.  He allowed three runs on 10 hits over a career-long 7 1/3 innings, striking out three without issuing a walk.
IOWA-MINNESOTA: THE SERIES
• Iowa and Minnesota did not meet during Big Ten play, but the two teams played a nonconference game March 5 at the DQ Classic in Minneapolis.  The Gophers won 6-3.  
• The Hawkeyes jumped out a 3-0 lead in the first inning behind a three-run home run from Robert Neustrom, but Minnesota scored the game's final six runs to claim the victory.  Drake Robison suffered the loss, allowing four runs on five hits over 3 2/3 innings. He had three strikeouts and four walks.
• Iowa is 3-2 all-time against Minnesota in the Big Ten Tournament, including wins in 2014 and 2016.  The Hawkeyes eliminated the Gophers, 2-1, in 2014, and handed top-seeded Minnesota an 8-2 opening round loss last season.
• The Gophers defeated Iowa 15-5 in 2010 in the Big Ten Tournament title game.
B1G TOURNEY NOTES
• Iowa is the only team in the Big Ten to win at least one tournament game in each of the past four seasons.  The Hawkeyes have advanced to the semifinals in consecutive years for the first time in program history.
• Iowa is 7-5 in Big Ten Tournament play under Heller.  The Hawkeyes have defeated the tournament's top seed in consecutive years; Minnesota (8-2) in 2015; Nebraska, 2-0, on Friday.
• Iowa's 2-0 victory against No. 21 Nebraska was its first over a ranked opponent in 2017.  
• The win over Nebraska was the 36th victory of the season — the seventh-most in a single season in program history.  UI head coach Rick Heller has two of the top seven win totals in the annals (41 in 2015 are second).
• Junior Jake Adams drove in his 66th run of the season in the fifth inning against Nebraska.  The 66 RBIs are the eighth-most in a single season in program history.
SHUUUUUTTTTOOOUUUUTTTT
Three Hawkeye pitchers — Ryan Erickson, Zach Daniels, and Josh Martsching — combined to post Iowa's second shutout of the 2017 season in the 2-0 victory over No. 21 Nebraska.  Iowa's first shutout came March 29 against UNLV (3-0).
• Erickson won his third game of the season, scattering 10 hits over a career-best 7 2/3 innings.  He had a career-high six strikeouts against two walks.  Martsching got the final out with the bases loaded to notch his seventh save.
SHARP RELIEVERS
Iowa's bullpen has has scattered three hits and not allowed a run over 4 1/3 innings in two games at the Big Ten Tournament.  They have seven strikeouts to three walks.
• Senior Josh Martsching has gotten out of bases loaded jams unscathed in both games. He has two saves and four strikeouts over two innings.   He has seven saves this season.
HOME RUN TRAIN CONTINUES
Iowa hit its fourth home run of the Big Ten Tournament against top-seeded Nebraska when junior Chris Whelan connected on a no-doubter to left field — his seventh of the season — to give the Hawkeyes a 1-0 lead in the third.  The Hawkeyes have hit a long ball in nine straight games; they have 20 home runs during the stretch. 
• Sophomore Robert Neustrom hit his ninth home run of the season against Maryland; he has four home runs over the team's last five games.  
WHELAN/CROPLEY SIZZLE
• Sophomore Chris Whelan is hitting .714 in two Big Ten Tournament games, collecting hits in 5-of-7 at-bats with a double and two home runs.  He also has a walk and hit by pitch to post a .778 on-base percentage.
• Junior Tyler Cropley is hitting .600 (3-of-5) with a home run, three runs, and one RBI.  He has reached in six of eight plate appearances.
IOWA TIDBITS
• Twenty-eight games have been decided by two runs or less this season; Iowa is 18-10. 
• The Hawkeyes have overcome deficits in 20 of their 36 victories this season.  Iowa has posted walk-off victories in four games this season.
• The Hawkeyes have 12 wins this year when either trailing or being tied entering or through seven innings.  Eight wins have come in their final at-bat.
B1G SUCCESS
• Sophomore Robert Neustrom is hitting .381 (8-of-21) with four runs and four RBIs in six career Big Ten Tournament games.  The outfielder finished 1-for-4 with a solo home run in the opening round win over Maryland.
• Senior Mason McCoy is hitting .379 (11-of-29) with a double, three runs, and seven RBIs in six career postseason games.  McCoy had his sixth