Hawkeye Fan Shop — A Black & Gold Store | 24 Hawkeyes to Watch 2016-17 | Hawk Talk Monthly — May 2017 | Photo Gallery
Editor's Note: The following first appeared in the University of Iowa's Hawk Talk Daily, an e-newsletter that offers a daily look at the Iowa Hawkeyes, delivered free each morning to thousands of fans of the Hawkeyes worldwide. To receive daily news from the Iowa Hawkeyes, sign up HERE.
By JAMES ALLAN
hawkeyesports.com
BLOOMINGTON, Ind. — Heading into Sunday's winner-take-all Big Ten Tournament title game against Northwestern, the University of Iowa baseball team needed a bulldog on the mound for the team's fifth game in four days.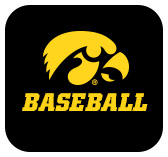 The Hawkeyes found one in senior Drake Robison, a journeyman right-hander that had pitched in stints at Iowa Western Community College, Mississippi, and now one season as a Hawkeye.
 
"Drake is a competitive guy," said Jake Adams. "He always wants the ball and he hates getting taken out of the game.  He's one of those guys that is going to be a bulldog on the mound regardless of if he has his best stuff or not.
 
"It was good to see him come out and throw a good game for us. We needed it because we were slim on pitching."
 
Slim might be a vast understatement. 
 
The Hawkeyes blew through their bullpen Saturday to advance to its second straight Big Ten Tournament title game.
 
Iowa used three pitchers in its 9-3 semifinal loss to Minnesota on Saturday morning before going with an all-hands-on-deck approach in the Saturday night cap. Iowa burned through five pitchers, including key relievers Kyle Shimp, Zach Daniels, Josh Martsching, and Shane Ritter in its 7-5, 13-inning victory over the Gophers to stay alive.
 
In the ninth inning of the semifinal elimination game, UI head coach Rick Heller told Robison he was their guy. If the Hawkeyes survived, the senior would take the hill for the start in the title game.
 
Robison's first (and only) season as a Hawkeye has been a mixed bag of worms.  He was a weekend starter early in the season before being transitioned to a relief role.  Heading into Bloomington, Robison was 3-2 with a 6.70 and he had allowed nine runs on 12 hits over his last four appearances (7 1/3 innings).
 
The first inning against Northwestern was a microcosm of Robison's season.  He struck out the game's first two batters before issuing consecutive walks.  He then punched out Wildcat designated hitter Jack Claeys swinging to strike out the side.
 
Iowa's bats followed with a five-run bottom of the first, and Robison settled in from there. The Machesney Park, Illinois, native followed with his best performance as a Hawkeye, going seven innings and allowing just one run on four hits.  He struck out six, while walking three.
 
"Coming into this game, the one thing I knew was that Drake wasn't going to be afraid," said Heller. "He was going to go out and compete.  If he didn't have it, he didn't have it.  With his experience in the Junior College World Series, he has pitched in some big games, and he handled it well.
 
"It is exactly what we needed to have a chance to win."
 
The only run Robison surrendered came in third when the Wildcats got a leadoff double from Nick Paciorek, who later scored on an RBI ground out. Robison faced the minimum batters in the fourth, fifth, and seventh innings with an assist from Iowa's infield defense, which turned two double plays.
 
"If we would have had to go to the bullpen in the first two or three innings, it would have probably ended up a slug fest and who knows what would have happened," said Heller. "Drake was the story today.
 
"We couldn't have written a better script.  His last outing he didn't make it out of the first.  He has had ups and downs, but we've known all along what he has in there."
 
Robison's performance helped lead the Hawkeyes to their first Big Ten Tournament title in school history and the first Big Ten championship since 1990 when Iowa won the regular season.  It also kept the season alive, securing the program's second NCAA Regional appearance in three seasons.
 
"I was prepared for a moment like this," said Robison. "I knew that eventually the ball was going to be in my hands for us to win something. I wanted to be ready for that situation."
 
He was; he's a Hawkeye bulldog.