Hawkeye Fan Shop — A Black & Gold Store | 24 Hawkeyes to Watch 2016-17 | Hawk Talk Monthly — May 2017 | VIDEO — Reaction to Regional Selection
Editor's Note: The following first appeared in the University of Iowa's Hawk Talk Daily, an e-newsletter that offers a daily look at the Iowa Hawkeyes, delivered free each morning to thousands of fans of the Hawkeyes worldwide. To receive daily news from the Iowa Hawkeyes, sign up HERE.
By DARREN MILLER
hawkeyesports.com
 
IOWA CITY, Iowa — There were no rapid heartbeats or sweaty palms inside Carver-Hawkeye Arena's Feller Club Room on Monday when the University of Iowa's postseason baseball verdict was revealed.
 
Iowa's recent five-game tear through the four-day Big Ten Tournament featured wins over Maryland, Nebraska, Minnesota, and Northwestern and delivered the program its first conference tournament championship. The reward is a berth in the Houston Regional that also includes the host Cougars (40-19), Baylor (34-21), and Texas A&M (36-21). Games begin Friday.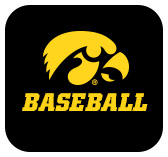 On Monday, the hands that pitched, caught, and slugged Iowa into the history book were used for congratulatory shakes and slaps on a Memorial Day full of still-fresh pleasant memories.
 
The Hawkeyes (38-20) scored 34 runs during their Big Ten Tournament spurt of excellence with 18 extra-base hits and 11 home runs. But the biggest keys to winning 10 of the last 13 games were defense and pitching.
 
"Ryan Erickson stepping up against Nebraska was a big one," said Iowa head coach Rick Heller. "Josh Martsching coming in against Minnesota in a really, really dire situation and bailing us out and giving us (5 2/3) innings. And we're not talking today if Drake Robison doesn't step up like he did (Sunday)."
 
Erickson hurled 7 2/3 shutout innings during a 2-0 victory over the top-seeded Cornhuskers on May 26. Martsching faced one batter to record a save the day after he faced six Maryland batters over 1 2/3 innings for his fourth win of the season. But Martsching wasn't done: He threw 5 2/3 innings of two-hit ball against Minnesota during a 7-5 win by the Hawkeyes in 13 innings May 27.
 
As for Robison?
 
He tossed seven innings and 100 pitches in the Big Ten title game that Iowa won over Northwestern, 13-4.
 
Those three pitchers combined for 22 1/3 innings, a 4-0 record, and a 0.40 ERA. The Hawkeyes were led at the plate by Tyler Cropley (.412-3-5) and Matt Hoeg (.375-1-6).
 
It was Iowa's second-straight appearance in a winner-take-all Big Ten Tournament finale and this one was infinitely more satisfying than 2016. A season ago, the Hawkeyes took a 4-0 lead into the top of the fourth inning against Ohio State. They fell behind, 7-4, before tying it with a three-run eighth, only to lose 8-7.
 
"We had unfinished business," said Robert Neustrom, whose defensive gem of a catch in the fifth inning in game two Saturday robbed Minnesota's Eduardo Estrada of a three-run home run. "Last year we were so close and this year we didn't want to let it slip away."
 
Although it is Iowa's first tournament championship, it isn't a maiden voyage into regionals under Heller. In his second season as the Hawkeyes' head coach in 2015, Iowa advanced to a regional in Springfield, Missouri, and went 2-2 with two wins over Oregon and two losses to Missouri State. Heller wants regional play to be an annual occurrence for the Hawkeyes.
 
"The goal for the program is to get into the regional every year and then when the stars line up and everything happens your way, you end up in Omaha (at the College World Series)," he said.
 
Iowa is 7-2 at the last two Big Ten Tournaments, which is fabulous, but Heller wants more cushion and security heading into future Big Ten postseason play.
 
"We have to get to a point where we don't have to win the tournament," Heller said. "Where we know coming into the tournament that we're probably going to get an at-large bid."
 
Still, there is something special about having to win it all to stay alive and move on. Something special about guys like Iowa leadoff hitter Chris Whelan batting .333 with two doubles and two home runs and snaring 17 putouts in left field. Whelan was named the tournament's most outstanding player.
 
"I was trying to do my part as leadoff guy and getting on base so Mason (McCoy), Rob (Neustrom), or Jake (Adams) could hit me in and that would get things going," Whelan said.
 
There is something special about guys like Martsching appearing in three games over four days and finishing with two wins, a save, and a spot on the all-tournament team.
 
"We're not going to settle for winning two games (at regionals)," Martsching said. "We want to move on to super regionals this time."
 
The Hawkeyes begin regional play against Houston (40-19) on June 2 at 7 p.m. (CT).
 
"We don't care who we're playing, we try to take care of ourselves first," Heller said. "If we do that, generally good things happen and that's what you saw (at the Big Ten Tournament). We went out and played as hard as we could, tried to play as smart and savvy as we could, and eliminate as many free bases to give ourselves a chance. That's what we'll do this week."