Hawkeye Fan Shop — A Black & Gold Store | Fight For Iowa | 24 Hawkeyes to Watch 2016-17
WICHITA, Kansas — A final run in the 12th inning lifted the Mulvane Patriots to a 5-4 victory over the USA National Team represented by the University of Iowa Tuesday afternoon at Lawrence-Dumont Stadium in Wichita, Kansas.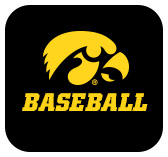 "Early in the game we were sloppy and gave up some runs," said UI head coach Rick Heller. "Defensively we made some costly errors, which ultimately cost us the game. Today I think we pressed and our confidence was lacking at the plate. The pitcher we were facing did have a really good arm and he was a tough guy to hit."
 
USA scored its first run in the first inning off an RBI triple from right fielder Robert Neustrom allowing Ben Norman to score. The Patriot's followed with an Adam Brown RBI double to left field allowing Dalton Dinkel and Hunter Aguirre to score two runs at the top of the second inning giving Mulvane a 2-1 lead.
 
Catcher Tyler Cropley would score the tying run in the sixth inning for USA off an RBI double from first baseman Matt Hoeg. USA then took a 3-2 lead in the bottom of the seventh inning off an RBI double from Robert Neustrom allowing Kyle Crowl to score the run.
 
In the top of the ninth inning, Patriot Colton Helm scored an unearned run that would send the game into extra innings.
 
With a runner on second in the 10th inning, the Patriot's Javis Larson would RBI single to center field allowing Channing Williams to score the leading run. USA countered tying the game once again with a leadoff double to left field from Kyle Crowl followed by a Tyler Cropley single to left field. Grant Judkins advancing to first base would allow Crowl to score.  
 
Easton Herring would score the final run for the Patriots in the 12th inning, giving them the 5-4 victory.
 
Sammy Lizarraga pitched four innings allowing only three hits and one run. Starting pitcher Brady Schanuel also pitched four innings allowing two hits. Zach Daniels pitched for two innings, while Grant Judkins closed out the final inning.   
 
"Sammy was the biggest positive we had today," said Heller. "I thought he pitched the best he's pitched since he's been here at Iowa. It was a really positive sign; I think it's just the start of what we are going to see from Sammy when we get to February."
 
Four Hawkeyes posted a multi-hit game — Ben Norman, Kyle Crowl, Robert Neustrom, and Tyler Cropley each had two hits, while Matt Hoeg had one.
 
"Overall it was disappointing," said Heller. "I am glad we got it out of the way here, unfortunately this means we are probably going home after Thursday's game, which is disappointing. Today was a good learning experience; we will get better these next two days."
 
The USA National team returns to action Thursday at Lawrence-Dumont Stadium, opponent and time to be determined.