Hawkeye Fan Shop — A Black & Gold Store | 24 Hawkeyes to Watch – 2017-18 | Fight For Iowa
LAWRENCE, Kan. — A header goal from senior Karly Stuenkel gave the University of Iowa women's soccer team to a 1-0 exhibition victory over Kansas on Saturday afternoon at Rock Chalk Park. 
 
Stuenkel's goal came at the 28-minute mark following an assist from redshirt sophomore Kaleigh Haus.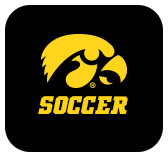 Defensively, sophomore goalkeeper Claire Graves accumulated six saves in the shutout.
 
KEY HAWKEYE PERFORMER
Stuenkel showed why she is a two-time Iowa Offensive Player of the Year. She played 71 minutes of action on the pitch and scored Iowa's lone goal.
 
STAT OF THE GAME
The Hawkeyes stopped 12 Jayhawk shots, finishing with a total of seven saves.
 
QUOTING HEAD COACH DAVE DIIANNI
"We were very happy with the intensity and work rate by the group to start the game. I felt that we did a good job of winning challenges and pressing them in areas that made it difficult to get out of the pressure."
 
On Stuenkel's Goal
"I was incredibly encouraged by the goal we scored. Haus had a good 1-v-1 moment out wide off of a switch attack and slots a nice ball into the box for a great header by Karly."
 
On Kansas:
"Kansas is a good team and we struggled through the middle portion of the second half. We couldn't get a handle on the game with their pressure. Credit to them."
 
On offseason improvements:
"I am happy to see that areas we worked on in training exposed themselves today for both good and bad. We have a great foundation to build upon this year."
 
NOTABLES
Iowa's starting lineup featured eight underclassmen, including freshman Morgan Krause.
Junior Moran Kemmerling was the only Hawkeye to play all 90 minutes.
Although an exhibition, the win was a strong one for Iowa.  Kansas is picked to finish as the runner-up in the Big 12 in 2017.
UP NEXT
Iowa will open the regular season on the road against VCU in Richmond, Virginia on August 18 at 6 p.m. (CT).
FOLLOWING #HAWKEYES ON SOCIAL MEDIA
Stay up-to-date on the latest with the University of Iowa women's soccer team through social media.  Follow the Hawkeyes on Twitter (@HawkeyeSoccer), Instagram/HawkeyeSoccer, and Facebook/HawkeyeSoccer.