Hawkeye Fan Shop — A Black & Gold Store | 24 Hawkeyes to Watch – 2017-18 | Fight For Iowa | USA Team World University Games Central
 
 
Editor's Note: The following first appeared in the University of Iowa's Hawk Talk Daily, an e-newsletter that offers a daily look at the Iowa Hawkeyes, delivered free each morning to thousands of fans of the Hawkeyes worldwide. To receive daily news from the Iowa Hawkeyes, sign up HERE.
By JAMES ALLAN
hawkeyesports.com
TAIPEI, Taiwan — The University of Iowa baseball team's trip to Taiwan for the World University Games is more about the wins and losses because it is a once-in-a-lifetime experience.
 
UI head coach Rick Heller was intrigued last fall when he got a note detailing the possibility of representing the red, white, and blue.  It didn't take long for him to peruse it a little further.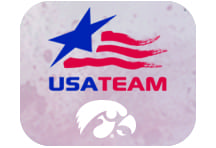 "You don't get a chance every day to represent USA on a world stage," said Heller. "This doesn't come around too often. To have our school and players have that experience, I thought it would be fantastic if we could make it work out."
 
Fast forward to now and the Hawkeyes are proudly representing the United States in Taipei, Taiwan. 
 
"It's amazing," said junior Robert Neustrom. "You have to pinch yourself sometimes. It feels like yesterday we were in the Dominican Republic, and now we're in Taiwan for two weeks. It's unbelievable and an experience I'll never forget and one my teammates won't either."
 
USA Team opens play Aug. 20 against Mexico in its first game of pool play.  The team will also face Russia on Aug. 22 and Japan on Aug. 23. From there, it's the consolation or winner's rounds.
 
During the two-week stretch, it will be Iowa against the world.  It's the Hawkeyes against National Teams from other countries, but that won't change the Hawkeyes' approach.
 
"We will go out and play hard," said Neustrom. "We will play Iowa baseball, that's the way we play. We're blue collar, we fight, and try to win. That's all we can do."
 
Senior Matt Hoeg says the Hawkeyes will aim to win, while enjoying the experience.
 
"We want to go, play our best, and compete at the highest level we can," he said. "We want to have an experience; I don't know if I will ever go to that side of the world again. I want to experience it, see what it's about, and go see some of the other events at the World Games."
 
You won't catch Heller stressing anything new. The Hawkeyes will proudly be sporting the USA across their chests, but that will be the only difference from a game in August in Taipei or one in Ann Arbor in April.
 
"We'll go out and play hard, compete hard, and never give up," said Heller. "We'll do the best we can. Do I expect us to be perfect?  No, we're nowhere near where we would be in February and a lot of these guys are getting thrown into the fire, so we'll just have to flat out compete."
 
Compete and enjoy the experience.  That's the most important thing in Heller's eyes.
 
"Putting on the USA jersey and competing against world-level competition will be immeasurable for us in the 2017 season," said Heller. "When we're at the World Games, we need to represent USA in a first-class manner in everything we do and everywhere we go.  That's just as important as the baseball.
 
Follow the Hawkeyes as the USA Team through UIBaseball on Twitter and Instagram.  Following World University Game Central at hawkeyesports.com/taipei2017.