Hawkeye Fan Shop — A Black & Gold Store | 24 Hawkeyes to Watch – 2017-18 | Fight For Iowa | USA Team World University Games Central | Photo Gallery
 
 
By JAMES ALLAN
hawkeyesports.com
TAIPEI, Taiwan — USA Team had the opportunity to connect with alums Thursday evening at a University of Iowa Alumni Association gathering at the Taipei Marriott in downtown Taipei.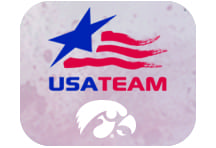 "We were proud to hear the team was representing the United States," said Kent Clark, vice president of the UI Foundation. "Taipei is one of the great places internationally for the University of Iowa. 
 
"We have approximately 1,000 alumni in Taiwan. We have had alumni outreach events in the past and we knew our alumni would want to give a great warm welcome to the team."
 
Approximately 200 UI alums attended Thursday's event and a cheering section, spearheaded by 1972 graduate Elizabeth Lamb, has been attending every USA Team game.
 
"This makes my day and life," said Lamb of getting to meet the team. "It was great to be able to meet all my heroes personally."
 
Junior Mitchell Boe says the fan support in Taiwan has been incredible. He was happy to meet the Hawkeyes' international cheering section.
 
"This is a great experience to see who has been cheering us on in the stands," said Boe. "The first day when we got here it was crazy seeing all the fans in the stands being so far away (from home). It was a cool experience and we finally got to meet them, so it was fun."
 
Alec Scranton, the Iowa's Dean of the College of Engineering, Chaden Djalai, Dean of the College of Liberal Arts, Downing Thomas, Dean of International Programs, and Hong-Yuan Lee, a UI graduate and Chinese politician, were also on hand to mingle and address the crowd.
 
"It was quite a surprise that we have the Hawkeyes to represent USA to play in the World Games," said Lee, who graduated from the UI in 1984. "We enjoyed a lot of sports during our time at Iowa from 1980-84, and it's good we can have the Hawkeyes in Taiwan."
 
Clark was appreciative of the Taiwanese support, but wasn't surprised.
 
"They got the bug when they were students," said Clark. "Students spend their formidable years at a university and they lay down memories for a lifetime. Iowa City has a special place in their heart and their love for the UI is the reception we've received."
 
Lamb is coordinating tickets for USA Team's remaining four games at Tianmu Stadium and she's holding out hope for a USA triumph.
 
"I want the team to win the gold medal," she said. "That's my wish. I'll keep my fingers crossed."
 
Gold or no gold, Clark says the University of Iowa is proud of the Hawkeyes' representation as Team USA.
 
"We're proud of our team in the way they represent our university so well," said Clark. "I am grateful we've had a chance to match up these rabid fans and wild Hawkeyes in Taiwan with our outstanding Hawkeye USA baseball team.  We couldn't be prouder."
 
USA Team returns to action Friday, facing the Czech Republic at 5:30 a.m. (CT).