Hawkeye Fan Shop — A Black & Gold Store | 24 Hawkeyes to Watch – 2017-18 | Fight For Iowa | USA Team World University Games Central | Photo Gallery
 
 
By JAMES ALLAN
hawkeyesports.com
TAIPEI, Taiwan — Sunday was a day for USA Team to experience more Taiwanese culture.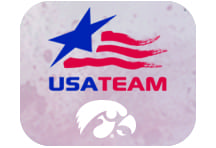 After watching the much anticipated Floyd Mayweather versus Connor McGregor fight at noon Taiwan time, USA ventured out into the city to explore different cultural experiences in Taipei.
 
USA visited the Grand Hotel, took in the changing of the guard at the National Revolutionary Martyrs' Shrine, and stopped at the Xingtian Temple, before rounding out the day at Ximending shopping district — Taipei's version of Tokyo.
 
"It was important to learn some Taiwanese culture when we were coming over here," said sophomore Kyle Crowl. "Our main goal is winning a gold medal, but to experience another country has been amazing with all the different aspects– the night markets, Taipei 101, and today's stops. The experience has been unreal."
 
The Grand Hotel is a Taiwan landmark and is one of the world's tallest Chinese classical buildings.  The hotel has hosted many foreign dignitaries, who have visited the Taipei.
 
The Martyrs' Shrine is dedicated to the war dead of the Republic of China. A changing of the honor guard from the various branches of the Chinese military take place at the shrine.
 
"I was mesmerized by the changing of the guard," said Crowl. "Everything was so meticulous and with an attention to detail; it was cool to see. A lot of countries do their thing; it's like (the United States') fallen soldier tomb."
 
After leaving the shrine, USA team stopped at the Xingtian Temple that is situated in the center of the city.  The building features sculptures with dragons amidst the temple's design.
 
The crew rounded out the afternoon in the Ximending area, which is was the first pedestrian area built in Taipei and is the largest in Taiwan.  The area features bright lights, shopping, and restaurants.
 
USA Team returns to the field Monday morning local time and at a 10 p.m. (CT) in Iowa City.  The second-seeded Americans face the Czech National Team in the semifinals at Tianmu Baseball Stadium.  The winner will play Tuesday for a gold medal.