Hawkeye Fan Shop — A Black & Gold Store | 24 Hawkeyes to Watch 2016-17 | Fight For Iowa | Box Score (PDF) | Boxscore
ST. PAUL, Minn. — Sophomore Devin Burns finished a big weekend with two goals against UC Santa Barbara, leading the University of Iowa soccer team to a 2-0 victory.  The Hawkeyes have won two straight to run their record to 4-1.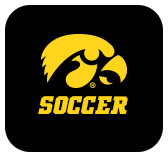 Burns went 2-for-3 in Sunday's matchup with her two goals coming in the 13th and 49th minutes. Her second goal was a header assisted by sophomore Kaleigh Haus.
 
The Hawkeyes and the Gauchos met for the first time Sunday afternoon. Iowa now leads the series, 1-0-0.
 
KEY HAWKEYE PERFORMER
Sophomore Devin Burns collected five goals this weekend over 76 minutes of action. The native of Green Oaks, Illinois, scored three goals total last season.
 
QUOTING HEAD COACH DAVE DIIANNI
"Today, we were happy with the team's performance overall and their ability to play out a game plan that was best for us to have some success. There were moments that we needed to be much more clinical in the box, but the ability to create those chances with varying ways is something this team continues to improve on. 
"Both teams looked tired from the first game of the weekend and because of that it created moments for both. We are excited to come back home and prepare for another big weekend, with Loyola and Montana coming town."
 
NOTABLES
Four Hawkeyes competed in all 90 minutes of action: sophomore Claire Graves, junior Morgan Kemerling, and seniors Karly Stuenkel and Corey Burns.
Haus lead the team Sunday with four shots and one assist.
 
UP NEXT
The Hawkeyes return home Friday, Sept. 8 to celebrate Senior Night and host Montana at 7 p.m. (CT). Iowa will then face Loyola Chicago in a Sunday afternoon matchup at the Iowa Soccer Complex at 1 p.m. (CT). Admission is free to the public.