Hawkeye Fan Shop — A Black & Gold Store | 24 Hawkeyes to Watch – 2017-18 | Fight For Iowa | Game Notes (PDF)
THE MATCH-UP
 The University of Iowa soccer team closes out nonconference play with a pair of matches this weekend at the Iowa Soccer Complex. The Hawkeyes will face Montana (4-2-0) on Friday at 7 p.m. (CT) and Loyola Chicago (3-3-0) on Sunday at 1 p.m. Admission is free to both contests.
    The Hawkeyes will recognize eight seniors – Rachele Armand, Corey Burns, Tina Cardamone, Madeline Crowdy, Laura Lainson, Karly Stuenkel, Katharine Woodruff, and Aubree Larson prior to Friday's game against Montana and there will be a postgame fireworks show.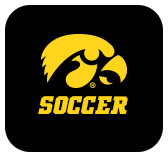 WATCH/FOLLOW LIVE
• Live stats for both contests will be available on hawkeyesports.com by visiting the Iowa soccer schedule page.
• Both games will also be available online on BTN Plus at www.btn2go.com and via BTN's mobile app.
• Fans can follow the Iowa soccer program on Twitter (@HawkeyeSoccer) for live in-game updates.
 THE SERIES
• Iowa and Montana are tied at one win apiece in the all-time series. The Griz won the last meeting in 2015, coming away with a 1-0 victory in Missoula, Montana.  
• Iowa leads the all-time series with Loyola Chicago, 2-1-1. The Hawkeyes have won the last two meetings over the Ramblers. 
BURNING UP THE NET
• Sophomore Devin Burns was named Big Ten Co-Offensive Player of the Week on Sept. 5 after netting five goals and registering one assist in two Hawkeye victories over Southern Utah and UC Santa Barbara.
• The Green Oaks, Illinois, native netted her first career hat trick, scoring three goals in just 10:46 against Southern Utah.  Burns tallied her second straight multi-goal game, scoring twice in the Sept. 3 neutral site victory over UCSB.
RECORDS, RECORDS, WE LIKE RECORDS
• The Hawkeyes set a single game points record, finishing with 26 points against Southern Utah via eight goals and 10 assists. The previous record was 25 points in 1997 and 1998.
• Iowa tied a single-game goals record in its 8-1 victory over Southern Utah on Aug. 31.  It was the third time in program history the team scored eight goals in a game and the first since 1998 during the program's second season.
• Sophomore Devin Burns tied a pair of individual single-game records in the triumph over Southern Utah.  The forward tallied the eighth hat trick in school history, tying the goals record, and she added an assist to become the third Hawkeye — first since 2003 — to finish with seven points in a match.
• Sophomore Natalie Winters tied a single-game assists record in Iowa's 5-1 victory at Richmond. She is the fourth Hawkeye to accomplish the feat.
HAT TRICK X 2
Heading into the 2017 season, Iowa hadn't tallied a hat trick since 2003.  In five games, the Hawkeyes have two hat tricks — one by sophomore Kaleigh Haus (vs. Richmond) and one by sophomore Devin Burns (vs. Southern Utah).
B1G LEADERS
• The Hawkeyes are leading the Big Ten in assists (19) and assists per game (3.80) and are second in points (51), goals (16), and goals per game (3.20).
• Sophomores Devin Burns and Olivia Fiegel are tied for the league lead in goals (5) and goals per game (1.0).  Sophomore Kaleigh Haus is tied for fourth with four strikes.
• Burns is also leading the conference in points (12) and points per game (2.40) and is tied for second in game-winning goals (2).  Haus and Fiegel are tied for third with 10 points.
• Sophomore Natalie Winters is tied for the Big Ten lead in assists (5) and assists per game (1.0). 
QUICK HITTERS
• The Hawkeyes rank in the top 10 nationally in assists per game (6th), points per game (7th), assists (7th), points (9th), scoring offense (9th), and goals (10th). 
• Sophomore Natalie Winters is third in the NCAA in assists, Devin Burns is 10th in points, and Burns and Olivia Fiegel are 13th in goals.
• Iowa's eight goals, 10 assists, and 26 points against Southern Utah on Aug. 31 are high-water marks in the Big Ten this season.
• Sophomore Claire Graves posted her second shutout of the season — and sixth of her career — in Iowa's 2-0 win over UC Santa Barbara.  Graves is 4-1 with 14 saves and a 0.90 goals against average in 2017.
• Senior Karly Stuenkel, junior Rose Ripslinger, and sophomore Natalie Winters were named to the Big Ten Preseason Honors List.  Stuenkel is Iowa's 2017 team captain.
 
SCOUTING MONTANA
• Montana was on a three-match winning streak before falling, 1-0, against No. 14 Nebraska last week in Pullman, Washington.
• The Grizzlies have spread the wealth offensively in 2017.  The team's nine goals have been scored by seven different players. Defensively, goalkeeper Claire Howard has posted two shutouts and she has made 13 saves.  
SCOUTING LOYOLA CHICAGO
• The Ramblers were looking to start September on a hot streak until the Central Michigan stopped them in an over-time victory on Sunday.
• Loyola is currently averaging 2.67 goals per game.
MS. USA
Sophomore Natalie Winters has been a mainstay at the U.S. Women's National Team Training Camp.  The Michigan native spent the summer of 2017 competing in various camps and competitions for the red, white, and blue.  She has completed in more than 10 training camps in her career.
 
UP NEXT
The Hawkeyes open Big Ten action with a Sept.15 contest against No. 22 Nebraska. The game will begin at 7 p.m. (CT) from the Iowa Soccer Complex.