Hawkeye Fan Shop — A Black & Gold Store | 24 Hawkeyes to Watch 2016-17 | Fight For Iowa | Hawk Talk Monthly — September 2017
By ANNE RILEY
hawkeyesports.com
IOWA CITY, Iowa — Peek into the upcoming season and you will see three new faces on the University of Iowa women's tennis team. Danielle Bauers, Danielle Burich, and Yufei Long have arrived in Iowa City and have been welcomed by their coaches and teammates while learning what it means to be a Hawkeye.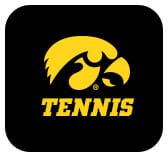 Transitioning into college is never easy, especially when moving far from your family, a commonality shared by all three newcomers. Bauers is from Georgia, Burich is from Florida, and Long is from China.
 
"The first week was overwhelming and kind of scary, but the second week I felt a lot better." said Long.
 
The Iowa veterans are helping the rookies adjust into their new home. Team captain Zoe Douglas has helped ease the transition, leading practices and helping the freshmen grow into their role.
 
"I really look up to Zoe," said Bauers. "She has been a great leader and has done a great job of helping us keep up with our schedules and knowing how to best prepare for practices."
 
Burich said that she chose Iowa because of the team spirit and energy she feels from the players and coaches. She has leaned on the veterans to help smooth the rookie transition, and is inspired by the one Hawkeye who went through the learning phase just one year ago, Big Ten Freshman of the Year Elise van Heuvelen.
 
"I look up to Elise because she had such a great freshman year," said Burich. "I hope to repeat that and take whatever advice she has."
 
UI head coach Sasha Schmid has seen early growth and is excited by the attitude each player has brought to practice.
 
"They've been doing awesome and it's exciting to see how they've grown and developed into great teammates already," said Schmid. "We talk about having a growth mindset. Obviously everyone wants to be in the lineup, but it is so early and we have such a long season that right now it's about progress and improvement. At this point it is about seeing the big picture, it's a marathon not a sprint."
 
The Hawkeyes open the season this weekend at the William and Mary Invite in Williamsburg, Virginia.