Hawkeye Fan Shop — A Black & Gold Store | 24 Hawkeyes to Watch – 2017-18 | Fight For Iowa
 IOWA CITY, Iowa — Senior Tyler Cropley's 10th-inning sacrifice fly lifted the Gold team to a 7-6 walk-off victory, evening the Black & Gold World Series at one game apiece Thursday afternoon at Duane Banks Field.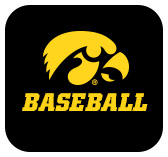 The Gold team grabbed a 1-0 lead in the second inning off a Tanner Wetrich solo home run before the Black team scored six unanswered runs from the third to sixth innings to take a 6-1 lead.  The Gold team cut the lead to 6-2 with one run in the sixth inning before using a four-run eighth to tie the game.
 
In extra innings, junior Mitchell Boe led off the inning with a walk before eventually scoring the game-winning run on Cropley's sacrifice fly.
 
Sophomore Grant Judkins paced the Gold team, finishing 4-for-5 with two doubles and an RBI, while Wetrich (3-for-4) and sophomore Ben Norman (2-for-5) tallied multi-hit games.  The Gold team had 15 hits against five Black team pitchers.
 
Freshman Jack Dreyer tossed five innings, allowing two hits and fanning five.  Freshman Cam Baumann scattered six hits over two innings, and redshirt freshman Kole Kampen struck out three in three innings.
 
Sophomore Justin Jenkins, redshirt freshman Kace Massner, and freshman Zion Pettigrew led a 13-hit Black team attack with multi-hit games.  Jenkins finished 3-for-5 with a double, Massner was 3-for-5 with two doubles, and Pettigrew finished 2-for-4.
 
On the mound, senior Elijah Wood allowed six hits over four innings, while freshman Trenton Wallace scattered two hits and fanned four over three frames. 
 
The rubber match of the Black & Gold World Series will take place Friday at 3:30 p.m. (CT).