Hawkeye Fan Shop — A Black & Gold Store | Fight For Iowa | 2018 UWW World Cup | Hawk Talk Monthly — October | Season Tickets
IOWA CITY, Iowa — Select members of the University of Iowa wrestling team will compete Saturday at the Luther Open in Decorah, Iowa. Competition begins at 9 a.m. (CT) in the Regents Center in Decorah, Iowa.
 
Fans can follow the Luther Open at TrackWrestling.com.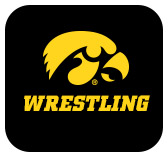 LUTHER OPEN PROBABLE LINEUP
Perez Perez (125), Justin Stickley (125), Paul Glynn (133), Phillip Laux (133), Carter Happel (141), Aaron Meyer (141), Dan Murphy (141), Max Murin (141), Stephen Alvarez (149), Jeren Glosser (149), Pat Lugo (149), Keegan Shaw (157), Logan McQuillen (165), Myles Wilson (184), Connor Corbin (197), Jacob Warner (197), and Aaron Costello (285).
 
LUTHER ADMISSION
Tickets are available for purchase at the door. Tickets are $10 for adults and $5 for students and senior citizens. Children five-years-old and younger are free.
 
HOME OPENER
Iowa returns home Friday, Nov. 17, hosting Iowa Central, Buffalo, and North Dakota State in the Iowa City Duals. Competition begins at 10 a.m. (CT) on Mediacom Mat at Carver-Hawkeye Arena. Tickets are $12 for adults and $8 for youth 18-and-younger. UI students and children five-years old and younger are admitted free to all home wrestling events.