Hawkeye Fan Shop — A Black & Gold Store | 24 Hawkeyes to Watch – 2017-18 | Fight For Iowa | 2018 UWW World Cup | Season Tickets | Hawk Talk Monthly — November 2017 | Photo Gallery | Brands Transcript (PDF)
By DARREN MILLER
hawkeyesports.com
IOWA CITY, Iowa — Vince Turk's redshirt freshman wrestling season consisted of one match that he won by technical fall over Adam Sutlief of St John's (Minnesota) at the Luther Invitational.
 
Following the victory, Turk withdrew from the tournament because of a lingering injury to his left shoulder. He had successful surgery and rehabilitation, and has worked his way to the top of the Hawkeyes' depth chart at 141 pounds. In the wrestle-offs on Nov. 3-4, he defeated true freshman Max Murin, 5-4, in the semifinals and redshirt freshman Carter Happel, 6-2, in the finals.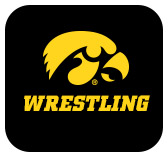 "It wasn't the greatest, but I still got the job done," Turk said. "Looking back, I have a lot of stuff to work on; I don't like to dwell on the past, but I have to look at that to see toward the future."
 
While Turk was 1-0 on the mat a year ago, Happel, a four-time high school state champion from Lisbon, Iowa, went 22-3.
 
"They both want the same thing," Iowa head coach Tom Brands said. "It's going to make our team better."
 
Turk agrees. The two-time high school state champion and three-time finalist from Elmhurst, Illinois, recorded an 18-4 record competing unattached at 141 in 2015-16. There is no shortage of exceptional training partners at that weight in the Dan Gable Wrestling Complex.
 
"It's nice having guys you can scrap with every day to get better," Turk said.
 
It was difficult for Turk to watch the 2016-17 season unfold from the sidelines. He knew his weight would rise and his conditioning would decline, but he overcame those obstacles, thanks to Iowa's athletic training staff directed by Jesse Donnenwerth.
 
Meanwhile, Topher Carton earned the starting spot for the Hawkeyes at 141 and went 26-10 overall, 2-2 at the NCAA Championships. While Turk was observing Carton and the rest of the Hawkeyes practice and compete, a desire to return to the mat was burning inside.
 
"I spent a lot of time watching wrestling and looking over other guys in the Iowa room," Turk said. "I noticed how they practiced, how they performed, what they were doing in and out of the room."
 
After dealing with frustrating injuries, the long wait for Turk is over.
 
"He's on pace to be the guy," Brands said. "He did his job early and let's keep doing your job."
 
It has been 14 years since the University of Iowa has had a Big Ten champion at 141 (Cliff Moore in 2004); the last Hawkeye All-American at that weight was Montell Marion in 2012. Listening to Turk, that could soon change.
 
"My goals are to win and dominate and hopefully our team does the same," he said. "I always knew I could do this, even last year. I just had to stay ready, stay healthy and get it done."
 
Turk is not one of four Hawkeye 141 pounders expected to compete at Saturday's Luther Open in Decorah, Iowa. His first action of the season will come Nov. 17 when Iowa hosts Iowa Central Community College, Buffalo, and North Dakota State in the Iowa City Duals.