Hawkeye Fan Shop — A Black & Gold Store | 24 Hawkeyes to Watch – 2017-18 | Fight For Iowa | 2018 UWW World Cup | Season Tickets | Hawk Talk Monthly — November 2017 | VIDEO — Iowa City Duals
Editor's Note: The following first appeared in the University of Iowa's Hawk Talk Daily, an e-newsletter that offers a daily look at the Iowa Hawkeyes, delivered free each morning to thousands of fans of the Hawkeyes worldwide. To receive daily news from the Iowa Hawkeyes, sign up HERE.
By DARREN MILLER
hawkeyesports.com
IOWA CITY, Iowa — Joey Gunther was a relative unknown last season before he secured the 165-pound spot on the University of Iowa wrestling roster.
 
But the newcomer wasn't content with making the Hawkeye lineup; Gunther won 20 matches and qualified for the NCAA Championships, where he spilt four bouts in St. Louis. Gunther has bumped up to 174 pounds this season and is adjusting well to a new weight class.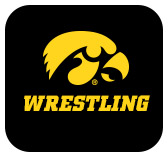 "I feel stronger and I haven't felt a problem with the weight difference when I'm wrestling guys bigger than me," Gunther said. "I'm feeling good."
 
Gunther, from Libertyville, Illinois, has spent his first two collegiate seasons at 165. He wore a redshirt in 2015-16 when he went 18-5 while competing unattached. Last season he started 13 of Iowa's 15 duals and recorded four wins over top 20 opponents (Drew Hughes of Michigan State, Nick Wanzek of Minnesota, Lorenzo DeLaRiva of Cal State-Bakersfield, and Brandon Ashworth of Wyoming). His final eight matches were against competitors ranked in the top 25.  
 
During the team's wrestle-off final Nov. 4, Gunther defeated Kaleb Young, 4-2, in sudden victory. The notion of a season-long competition against Young isn't on Gunther's mind. He is focusing on the likes of Penn State's Mark Hall, Ohio State's Bo Jordan, and Michigan's Myles Amine — three Big Ten opponents ranked in the top 4 nationally.
 
"I'm more worried about competing right away and trying to get on top of the podium at the end of the year," said Gunther, who won his first 10 matches last season as a redshirt freshman. "That is where my sights are set, not in-room battles right now."
 
Gunther moved to 174 because big things are expected from redshirt freshman Alex Marinelli at 165. Marinelli posted 13 wins last season and his only two losses came at Midlands, where he placed fourth. Gunther fills a void left by Alex Meyer, who spent the past two seasons as Iowa's top 174-pounder.
 
Not only has he added nine pounds, but Gunther says he has improved on his feet and "staying tough."
 
Iowa head coach Tom Brands has seen maturity in Gunther and other Hawkeye sophomores.
 
"When you look at Cash Wilcke (184 pounds), Joey Gunther, and Vince Turk (141) and the way they are coming to work every day is better," Brands said. "Their maturity is showing and they know they have to pick it up."
 
Every wrestler has high hopes in November and Gunther is no exception.
 
"I have big goals," he said. "I want to beat everyone I wrestle and win Midlands, Big Tens, and nationals. You have to have high goals."
 
Gunther and the Hawkeyes open the season Friday with the Iowa City Duals. The Hawkeyes will face Iowa Central Community College (10 a.m.), Buffalo (11:30), and North Dakota State (1:30 p.m.).