Hawkeye Fan Shop — A Black & Gold Store | 24 Hawkeyes to Watch – 2017-18 | Fight For Iowa | 2018 UWW World Cup | Season Tickets | Hawk Talk Monthly — November 2017
Editor's Note: The following first appeared in the University of Iowa's Hawk Talk Daily, an e-newsletter that offers a daily look at the Iowa Hawkeyes, delivered free each morning to thousands of fans of the Hawkeyes worldwide. To receive daily news from the Iowa Hawkeyes, sign up HERE.
By DARREN MILLER
hawkeyesports.com
IOWA CITY, Iowa — There was so much attracting the attention of University of Iowa wrestling fans last season: Thomas Gilman's undefeated run through the regular season at 125 pounds, Cory Clark winning a national championship at 133, Sammy Brooks defending his Big Ten title at 184.
 
That's a sample of what Hawkeye veterans were doing. At 157 pounds, redshirt freshman Michael Kemerer was close to dominate. Quietly dominant. He won six times at the NCAA Championships and placed third; four victories were by major decision and another by technical fall.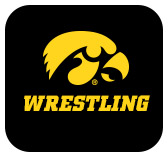 He is a sophomore now. A more mature, more dominant sophomore.
 
"I feel I have improved everywhere," Kemerer said. "I feel physically stronger and faster than last year. I have been working on technique to build on that and then mentally, always getting better. I work on my mental game every day."
 
Kemerer won his first 19 matches last season and finished 33-3 overall. He was runner-up in the Big Ten before earning the No. 2 seed at the NCAA championships.
 
"My goal was to go undefeated and win every match and I didn't do that," Kemerer said. "From that point of view, I didn't accomplish what I wanted. At the same time, I felt I learned a lot and got better; I enjoy competing every day, so it was a good experience. I'm ready to build on it now."
 
Kemerer ruled the mat during the season opening Iowa City Duals on Nov. 17 in Carver-Hawkeye Arena. He pinned Alex Leone of Iowa Central, pinned Kobe Garrehy of Buffalo, and won by 17-2 technical fall over No. 14 Clay Ream of North Dakota State.
 
"If I go out and wrestle hard, it kind of takes care of itself," Kemerer said. "If we're ready to go and wrestle our best, I guess we create the highs ourselves."
 
Before the season, the Hawkeyes elected captains; three-time All-American and 100-match winner Brandon Sorensen, a senior, was a logical choice. The other was Kemerer.
 
"You talk about leadership and they are doing a good job," Iowa head coach Tom Brands said. "They are the leaders because of their credentials and they bring the same kind of life into that room that everybody else does. They might have a little bit of a different method, but they bring that same life."
 
Kemerer's leadership style is a reflection of those he looked up to over the years in various wrestling rooms. He draws from former teammates who are now part of the Hawkeye Wrestling Club. He learns from people he grew up with in Murrysville, Pennsylvania, where he was a four-time state finalist and one-time champion for Franklin Regional High School.
 
"We've seen him mature and lead his class," Brands said. "Kemerer is raising the bar even more. His change in maturity is knowing that when he comes to work, it may be about more of a leadership role."
 
Kemerer and the eighth-rated Hawkeyes (3-0 overall) return to action Friday against Rider at 7 p.m. (CT) inside Carver-Hawkeye Arena. Last season Rider was 13-1 in dual meets. The Broncs are led by fifth-rated B.J. Clagon at 157 pounds.