Hawkeye Fan Shop — A Black & Gold Store | 24 Hawkeyes to Watch – 2017-18 | Fight For Iowa | 2018 UWW World Cup | Season Tickets | Hawk Talk Monthly — November 2017
By CHRIS BREWER
hawkeyesports.com
 IOWA CITY, Iowa — Friday's dual between Iowa and Rider is the first meeting in series history. But that doesn't mean the Hawkeyes are going in blind.
 
Iowa knows the Broncs' lineup features seven seniors. The Hawkeyes know there is a pair of All-Americans visiting Carver-Hawkeye Arena at 157 and 165 pounds, and they know to expect a different style of wrestling from the No. 22 team in the country.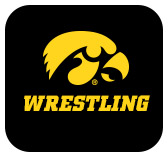 "We're going to have to wrestle a team that is a little bit different style-wise," said UI head coach Tom brands. "And our guys know it. It's early in the week but that doesn't mean they're not thinking about the competition. This is a focused group of guys that does it the right way."
 
Brands said before the season that his lineup has many unknowns. The opposite could be said of Rider. The Broncs are wrestling their first dual of the season, but some members of their veteran lineup have as many as 11 tournament matches under their belt.
 
"College wrestling, I don't think it's about experience or whether you have a veteran team against a young team or not, (our) guys have been growing up since the walked in here and we feel very comfortable with them," Brands said.
 
The 157-pound bout features No. 3 Michael Kemerer against No. 7 B.J. Clagon, a senior who placed fifth at the 2015 NCAA Championships at 149.
 
The Broncs other top 10 wrestler is No. 4 Chad Walsh, an All-American at 165 the last two seasons.
 
Brands said Tuesday that Kaleb Young will draw the assignment with Walsh. Both Young and Alex Marinelli are listed in the probable lineup, and both are ranked at 165 in national polls.
 
"We will keep Kaleb Young going that way," Brands said. "Marinelli will continue to train and do what he's been doing. Right now he's very strong. We have no issue with him, except we have to be very smart. It's still November."
 
Marinelli admits not being the guy is not without its challenges, but he said he's been reminded by Brands and Kemerer that it's a long season. Patience is key.
 
"I know Tom has my best interest in mind. He knows that it's good for me and he doesn't want to rush anything," Marinelli said. "My teammates have been reminding me that it's a long season. It's a great atmosphere I have right now."
 
As for Young, he's looking to build off his three wins at the Iowa City Duals. He scored bonus points in two matches and earned a 3-2 win over a ranked opponent in the third. 
 
"I need to take the opportunity and do what I can. Wrestle smart. Wrestle hard. And look to dominate," Young said.
 
The No. 7 Hawkeyes host No. 22 Rider on Friday at 7 p.m. (CT) at Carver-Hawkeye Arena. Tickets are $12 for adults and free for all youth 18-years-old and younger. Visit hawkeyesports.com/tickets for more information.