Hawkeye Fan Shop — A Black & Gold Store | 24 Hawkeyes to Watch – 2017-18 | 2018 UWW World Cup | Season Tickets | Hawk Talk Monthly — December 2017
Editor's Note: The following first appeared in the University of Iowa's Hawk Talk Daily, an e-newsletter that offers a daily look at the Iowa Hawkeyes, delivered free each morning to thousands of fans of the Hawkeyes worldwide. To receive daily news from the Iowa Hawkeyes, sign up HERE.
By CHRIS BREWER
hawkeyesports.com
PISCATAWAY, N.J. — The one they call "Bull" had his number called from the bench Friday night, and all indications are it wasn't for a pinch-hitting role.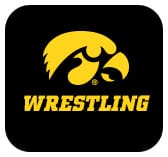 Redshirt freshman Alex Marinelli made his long anticipated debut in the Hawkeye wrestling lineup Friday at Rutgers, and after a 6-4 overtime win against U23 freestyle world champion Richie Lewis, Marinelli had thoughts of what's next.
 
"Maryland, Midlands, Michigan State, Oklahoma State," Marinelli said when asked when Iowa fans would be able to see him again.
 
He rattled the Hawkeyes' next four opponents off his tongue like a man who had spent countless hours studying Iowa's schedule, wondering when his time would come.
 
It finally came Friday night, and it was baptism by fire. University of Iowa head coach Tom Brands didn't lob a softball to Marinelli. Instead, Marinelli drew Lewis, a fifth-year senior who, less than two weeks ago, outscored opponents, 45-11, to win a world title.
 
On top of that, he did it in front of a record crowd of 6,754 Rutgers fans. And on top of that, he did it in a must-win situation. Iowa trailed 12-8 in the team score when Marinelli and Lewis took that mat at 165.
 
"The crowd was amazing," Marinelli said. "It's better to wrestle in those environments then going to a dual meet where there are 2,000 fans. I couldn't have wanted anything better for my first match. It didn't go quite like I planned. I have to get to my attack and extend the leg. He was being a little defensive and I tried to push the pace a little bit, but I'm excited to be on this mat."
 
Almost as impressive as the result was the method in which it happened. Wearing a leg brace on his left knee, Marinelli trailed 2-0 after allowing a first-period takedown. He escaped by the end of the first, opened the second period with an escape, and scored two takedowns for the win — one in the second period and the match-winner with 21 seconds left in sudden victory.
 
"Nothing surprised me," Marinelli said. "I got taken down right at first. That's not what needs to happen, but he's a wrestler and wrestlers have shots. I have to be ready for that. He took me to overtime. I needed to put the nail in the coffin before then, but I came out with the win and I'm happy about it."
 
Marinelli's delayed Hawkeye debut was a result of a lingering knee injury. Before taking the mat, he said he leaned on advice from former Hawkeye heavyweight Bobby Telford, who tore a meniscus in his knee at the 2013 NCAA Championships.  Telford is with the Hawkeyes on their current road trip, providing commentary for the Hawkeye Radio Network.  
 
"Telford told me yesterday it may be a little tougher than you think to get to the leg at first, but once you get that first takedown it starts flowing," Marinelli said. "I think that advice really helped. I knew it was going to be a war and I was ready for it."
 
Round 2 for Marinelli is Sunday at Maryland. The Hawkeyes visit the Terps at 12 p.m. (CT) at the Xfinity Center. The match will be broadcast on AM 800 KXIC, audio streamed at hawkeyesports.com via Hawkeye All-Access, and vid