Hawkeye Fan Shop — A Black & Gold Store | 24 Hawkeyes to Watch – 2017-18 | Fight For Iowa | Hawk Talk Monthly – December 2017
IOWA CITY, Iowa — University of Iowa head baseball coach Rick Heller has received a contract extension through 2024, the announcement was made Thursday by Henry B. and Patricia B. Tippie Director of Athletics Chair Gary Barta.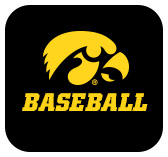 "The progress this program has made in four seasons under Rick has been incredible," said Barta. "Rick has changed the culture from day one with the win, graduate, and do it right principles at the forefront. We're excited to be able to reward Rick with this contract extension to keep him in Iowa City for the foreseeable future.
 
"You can feel the excitement and buzz surrounding the program throughout the state. We are excited to continue building on that and are looking forward to the 2018 baseball season."
 
"I am proud to be part of such an outstanding, team-oriented athletics department and university," said Heller. "With the fantastic leadership of Gary Barta and President (Bruce) Harreld our baseball program has grown significantly in the last five years and we look forward to working together to keep it moving forward.
 
"I am humbled that Gary and Bruce have given me the opportunity to be a Hawkeye for a long time. It's a privilege to go to work each day with such an amazing group of coaches, staff, and student-athletes."
 
Heller has injected life into the Hawkeyes since taking over the program in 2013.  He has led Iowa to its best four-year stretch in program history, winning 140 games, advancing to two NCAA Regionals, and claiming the first Big Ten Tournament title in program history.
 
Under Heller's watch, Iowa has advanced to the postseason in four consecutive years for the first time in program history, he has coached five All-Americans, a unanimous Big Ten Player of the Year, and at least one first-team All-Big Ten selection each season. Iowa has had 15 Major League Baseball Draft picks in four seasons — the most in a four-year stretch all-time.
 
Heller has also given the Hawkeyes an international flavor, taking the team to the Dominican Republic in 2016 and Taipei, Taiwan, as the United States representative at the 2017 World University Games.  Heller led USA to a silver medal, as the team became the first American squad to medal in Universiade history.
 
The Eldon, Iowa, native became the 20th head coach in program history in 2013 — his fourth stop as a collegiate head coach. He has enjoyed stints at Iowa (2014-present), Indiana State (2009-13), Northern Iowa (1999-2009), and Upper Iowa (1987-99), leading all four schools to NCAA postseason play. He is one of nine coaches all-time and one of five active coaches to lead three different Division I programs to NCAA Regional play.
 
Heller guided Iowa to an at-large berth into NCAA Regional play in 2015 — a first for the program since 1990 — and the team posted the school's first NCAA Tournament win since 1972. It wasn't a fluke; in the two seasons since, Iowa was runner-up at the 2016 Big Ten Tournament before claiming the program's first tournament title in 2017 to lock up the school's second NCAA Regional appearance in three seasons. 
 
Iowa made just three NCAA Tournament appearances in its history prior to Heller's arrival.
 
On the recruiting trail, Heller has turned the Hawkeyes into a major player on the national recruiting scene by keeping the best in-state players at home. Iowa had the top-rated class in the Big Ten — and 18th-best nationally — in 2015, and the 2016 class was ranked third in the league.
 
In 30 seasons as a head coach, Heller owns a career record of 830-654-4. He is one of two Iowa head coaches to lead the program to the NCAA Tournament.
 
The Hawkeyes will open the 2018 season Feb. 16, facing Toledo in Diamond 9 Sunshine State Classic Series in Kissimmee, Florida.