Hawkeye Fan Shop — A Black & Gold Store | 24 Hawkeyes to Watch – 2017-18 | 2018 UWW World Cup | Season Tickets | Hawk Talk Monthly — December 2017 | 2017 Midlands Brackets
 
 HOFFMAN ESTATES, Ill. — Brandon Sorensen and Michael Kemerer will defend their titles and three more Hawkeyes will wrestle for championships Saturday night at the 55th annual Ken Kraft Midlands Championships.
 
Iowa leads the team race with 136.5 team points. Rutgers is in second with 102.5. Arizona State is in third with 100.5. Rutgers has one wrestler in the finals. Arizona State has three.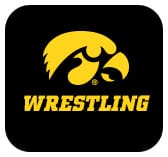 Sorensen earned his third straight trip to the finals with a 3-1 win in sudden victory over fifth-seeded Jason Tsirtsis. The top seed at 149 will try to become the 12th Hawkeye in school history to win three Midlands titles when he faces the No. 2 seed Justin Oliver of Central Michigan.
 
Kemerer, the top seed at 157, defends his title against No. 2 Joshua Shields of Arizona State. Kemerer advanced to the finals with a 19-4 technical fall. He is 5-0 in the tournament with four falls and a technical fall. The 157-pound final will be the final title bout of the night.
 
The championship round starts at 165 pounds, where No. 2 Alex Marinelli faces No. 5 Jon Schleifer of Princeton. Marinelli advanced to the finals with a 3-2 win over Rutgers No. 2 Richie Lewis.
 
The all-Hawkeye semifinals at 197 pounds leaned in favor of third-seeded Cash Wilcke. Wilcke and No. 7 Jacob Warner wrestled into overtime before Wilcke took Warner to his back and finished a fall 25 seconds into sudden victory. Wilcke, who has not placed in two previous Midlands appearances, wrestles No. 5 Frank Mattiace of Penn for the title.
 
Sam Stoll wrestles Arizona State's Tanner Hall in a 1-2 title matchup at 285. Stoll, seeded No. 2, advanced to his first Midlands finals with an 8-2 win over No. 6 Conan Jennings. Stoll lost to Hall, 2-1, in the Midlands semifinals last year. It is their only previous meeting.
 
Iowa's seventh semifinalist, No. 10 Spencer Lee, dropped a 3-1 decision to No. 3 Ronnie Bresser of Oregon State at 125. Lee surrendered an escape and takedown late in the third period to fall, 3-1. Lee appeared to have reversed Bresser as the clocked ticked to zero, but no call was made and Lee's corner was not allowed a review.
 
Five more Hawkeyes are alive in the consolation round. Pat Lugo won three straight matches in Session III to move on to the 149-pound consolation finals.  Carter Happel and Max Murin both won two-of-three matches and will wrestle each other for fifth place at 141. Kaleb Young (165) and Jacob Warner (197) will also wrestle for fifth place at their respective weights.
                                               
Competition resumes tonight at 7 p.m. (CT) with the finals, third, and fifth-place matches. The Midlands Championships is streamed online at BTN2Go and at FloWrestling.com. Live results are available at TrackWrestling.com. The tournament in broadcast on AM 800 KXIC and stream on hawkeyesports.com via Hawkeye All-Access.
 
SEMIFINAL RESULTS (#tournament seeds)
125 – #3 Ronnie Bresser (Oregon State) dec. #10 Spencer Lee (Iowa-UNAT), 3-1
149 – #1 Brandon Sorensen (Iowa) dec. #5 Jason Tsirtsis (Arizona State), 3-1 SV1
157 – #1 Michael Kemerer (Iowa) tech. fall #5 Justin Staudenmayer (Brown), 19-4
165 – #2 Alex Marinelli (Iowa) dec. #3 Richie Lewis (Rutgers), 3-2
197 – #3 Cash Wilcke (Iowa) pinned #7 Jacob Warner (Iowa-UNAT), 7:25 SV1
295 – #2 Sam Stoll (Iowa) dec. #6 Conan Jennings (Northwestern), 8-2
 
CONSOLATION RESULTS
125 – #10 Spencer Lee (Iowa-UNAT) mff.
133 – Paul Konrath (Wisconsin) dec. Paul Glynn (Iowa), 8-5
141 – #12 Carter Happel (Iowa) dec. #11 Mike Vanschenkbri (Rutgers), 3-1
141 – #12 Carter Happel (Iowa) dec. #8 Colton Schilling (Cal Poly), 12-8
141 – Nate Limmex (Purdue) dec. #12 Carter Happel, 8-7
141 – #9 Max Murin (Iowa) dec. #15 Pat D'Arcy (Princeton), 8-3
141 – #9 Max Murin (Iowa) dec. #6 Yayha Thomas (Northwestern), 4-3
141 – #4 Tyler Smith (Bucknell) dec. #9 Max Murin (Iowa-UNAT), 8-4
149 – #6 Ryan Deakin (Northwestern) dec. Jeren Glosser (Iowa), 4-2
149 – #10 Pat Lugo (Iowa-UNAT) won by mff #8 Eleazar Deluca (Rutgers)
149 – #10 Pat Lugo (Iowa-UNAT) dec. Austin O'Connor (North Carolina), 6-1
149 – #10 Pat Lugo (Iowa-UNAT) pinned #3 Matthew Kolodzik (Princeton), 4:38
165 – #8 Kaleb Young (Iowa) major dec. #6 Logan Parks (Central Michigan), 8-0
165 – #8 Kaleb Young (Iowa) dec. Logan Peterson (South Dakota State), 8-3
165 – #1 Anthony Valencia (Arizona State) dec. #8 Kaleb Young (Iowa), 7-3
174 – #2 Mikey Labriola (Nebraska) dec. #11 Joey Gunther (Iowa), 4-3
184 – #10 Martin Mueller (South Dakota State) dec. #12 Mitch Bowman (Iowa), 7-5
197 – #8 Christian Brunner (Purdue) dec. #7 Jacob Warner (Iowa-UNAT), 9-6
                     
FINALS MATCHUPS
149 – #1 Brandon Sorensen (Iowa) vs. #2 Justin Oliver (Central Michigan)
157 – #1 Michael Kemerer (Iowa) vs. #2 Joshua Shields (Arizona State)
165 – #2 Alex Marinelli (Iowa) vs. #5 Jon Schleifer (Princeton)
197 – #3 Cash Wilcke (Iowa) vs. #5 Frank Mattiace (Penn)
295 – #2 Sam Stoll (Iowa) vs. #1 Tanner Hall (Arizona State)
 
THIRD-PLACE MATCHUP
149 – #10 Pat Lugo (Iowa-UNAT) vs. #6 Ryan Deakin (Northwestern)
 
FIFTH-PLACE MATCHUPS
141 – #9 Max Murin (Iowa-UNAT) vs. #12 Carter Happel (Iowa)
165 – #8 Kaleb Young (Iowa) vs. #4 May Bethea (Penn)
197 – #7 Jacob Warner (Iowa-UNAT) vs. #11 Pat Brucki (Princeton)