Hawkeye Fan Shop — A Black & Gold Store | 24 Hawkeyes to Watch 2017-18 | Hawk Talk Monthly — February 2018
IOWA CITY, Iowa — The University of Iowa softball team held its annual media day in preparation for the 2018 season Thursday. The Hawkeyes open the season at the Mardi Gras Tournament in Lafayette, Louisiana, on Feb. 9-11. The Hawkeyes face UIC twice and take on Eastern Illinois, UL Lafayette, and Evansville once each.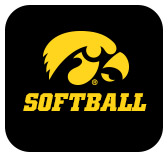 Season Tickets
For more information or to purchase tickets, please visit hawkeyesports.com, call the ticket office at 1-800-IA-HAWKS or visit the ticket office located in Carver-Hawkeye Arena. Fans who purchase a general admission season ticket receive an Iowa tumbler. Tickets start at just  $12.
 
Experience Lineup
The Hawkeyes return 17 letterwinners with three pitchers and nine players who played in over 30 games in 2017.
Allison Doocy appeared in 28 games and started 24 in the circle as a freshman. She had a 2.80 ERA over 145.0 innings and led the staff with 119 strikeouts, a mark that ranked No. 6 in the league. Doocy threw 16 complete games, had nine wins, and recorded four shutouts.
Lea Thompson appeared in 39 games and started 36 as a freshman, playing primarily shortstop. She led the NCAA with 0.41 sacrifice hits per game (16 sacrifice hits over 39 games). Thompson had 22 hits with two doubles and a team-high three triples for a .341 slugging percentage.
Angela Schmiederer played and started 49 games, primarily at catcher, as a junior. She recorded 32 hits with four doubles and a triple. Schmiederer scored seven runs and registered two sacrifice flies and two sacrifice bunts.
Allie Wood played and started at center field in 50 games as a junior. Wood recorded 30 hits with seven doubles and three home runs. She scored 19 runs, had 15 RBI, registered two sacrifice bunts, stole two bases, and had one sacrifice fly.
 
New Faces
Iowa adds five newcomers to its 2018 squad.
Aralee Bogar played three years at Byron Nelson High under Kathy Schoettle after playing her freshman year at North Andover High School. As a junior, she broke four school records: 33 stolen bases in a season, 45 hits in a season, 47 runs in a season, and 37 singles in a season.
Lauren Shaw pitched for three years at Keystone High School under Jim Piazza where she amassed a 53-13 overall record with 20 career shutouts and three no-hitters. Shaw had four perfect games, which ranks third in the Keystone record books. In all, Shaw threw 467 strikeouts and had a 1.01 career ERA.
Ashley Hamilton played shortstop and third base during her four years at John F. Kennedy High School under Dan Gratz. As a junior, she led the team to a 37-5 record and a first-place finish in the MVC. That season, Shaw played in 40 games and amassed 57 hits, a .438 batting average, and a .631 slugging percentage.
Elizabeth DeShields joins Iowa as a sophomore after one season at Marshall where she appeared in 46 games. She had 31 hits with three doubles and a home run. DeShields scored six runs and had a .414 on-base percentage.
Kenzie Ihle comes to Iowa after a season at Indiana State where she appeared in 37 games in the circle, tallying a 17-14 record. The senior threw nine complete games and had two shutouts and one save. Ihle threw 128 strikeouts in 188.2 innings pitched and held hitters to a .280 batting average.
 
Back in Black (and Gold)
Rachel West was named an assistant coach for the University of Iowa softball team in August 2017. She works with Iowa's slap hitters and outfielders.
West, an Iowa native, has spent eight years coaching in the Iowa City area, including a season as the Hawkeye's volunteer assistant coach (2016).
West played in 202 games for Iowa from 2005-09. In career records, she ranks fourth in stolen bases (86), eighth in batting average (.341), and 18th in runs (95). In single-season records, she ranks No. 7 in stolen bases (29) and No. 16 with four triples, both in 2007.
 
Other Staff Additions
Keely McMillon joined the University of Iowa softball program as the Director of Operations in September of 2017.
McMillon joins Iowa after four years as the Director of Operations for Olympic sports at Liberty University.
The Vermontville, Michigan, native worked as a graduate assistant in the Liberty Department of Sports Management from 2011-13. During the 2013 season, she served as a volunteer assistant coach for the Lady Flames' softball team.
In 2012, McMillon coached softball at Heritage High School in Lynchburg, Virginia.
McMillon was a catcher for the Lady Flames softball team from 2008-11. A four-year starter, primarily behind the plate, she played a key role as a senior on the Lady Flames' 2011 Big South championship team.
 
A Challenging Schedule
Iowa's 2018 schedule features 10 opponents who reached the 2017 NCAA Regionals, two of which reached the Women's College World Series. UIC, UL Lafayette, Tulsa, Texas A&M, Cal State Fullerton, Baylor, Michigan, Wisconsin, and Minnesota all reached Regionals, while Texas A&M and Baylor advanced to the Women's College World Series.
 
In the Rankings – B1G
Two Big Ten Teams are ranked in both the ESPN.com/USA Softball preseason ranking and the USA Today/NFCA Coaches Poll, both released on Jan. 30. Michigan is No. 16/18, while Minnesota is No. 18/16.
 
The Dugout
The Hawkeyes will continue to produce their blog, The Dugout, for the 2018 season. The blog provides fans the opportunity to connect with the student-athletes, coaches, and staff around the Hawkeye softball program. It aims to deliver a unique insight into the lives of the Iowa softball team. Each week, The Dugout features a different softball student-athlete, coach, or support staff member. To see the latest post, visit hawkeyesports.com.