Hawkeye Fan Shop — A Black & Gold Store | 24 Hawkeyes to Watch – 2017-18 | Hawk Talk Monthly — February 2018 | Purchase Season Tickets | PHOTO GALLERY | VIDEO — Media Day
By DARREN MILLER
hawkeyesports.com
IOWA CITY, Iowa — It's the first full week of February and baseball fever has consumed University of Iowa head coach Rick Heller.
 
For good reason.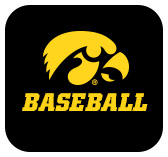 The Hawkeyes return six starting position players and a designated hitter from a team that went 39-22 last season, won the Big Ten Tournament, and finished two games from a berth in an NCAA Super Regional.
 
"It gets your juices flowing and for me, I can smell it, I can feel it, it takes over your body this time of year that it's time to go," Heller said Thursday at the team's annual media day.
 
With that said, Heller would like another week of preseason to prep his deep, yet inexperienced pitching staff. Specifically, he would like to build the pitch count for probable Sunday starter Brady Schanuel. Schanuel was shut down for a few days in January when he experienced arm issues and the junior from Swansea, Illinois, is working his way to handling a full start.
 
Schanuel is a two-time junior college All-American from Parkland College, where in two seasons, he won 20 games.
 
This is the first time in Heller's tenure with the Hawkeyes that he will not return at least one weekend starting pitcher from the previous season. Junior Nick Allgeyer is scheduled to be the Friday starter after missing 2017 while recovering from Tommy John surgery. Junior Cole McDonald, who threw a nine-inning, 97-pitch no-hitter against Czech Republic at the World University Games, will be the Saturday starter.  
 
"I know these guys are chomping at the bit to get outside and go," Heller said.
 
This is Heller's fifth season leading the Hawkeyes. In his first four, Iowa won 30, 41, 30, and 39 games — the best four-year run in school history and the program's most successful stretch since posting seven consecutive 30-win campaigns from 1979-95.
 
"If you keep building and get better every day, that's usually what happens," Heller said. "It says we're being more consistent, we are consistently putting good teams on the field, and we're playing the right way. Guys are performing, we have good recruits, Marty (Sutherland) has done an awesome job as our recruiting coordinator. All those things go into that; it is a great sign to see we have established consistency and expectations."
 
The Hawkeyes are ranked 44th in the College Sports Madness preseason rankings and received votes in the USBWA preseason rankings.
 
Two of Iowa's biggest storylines last season have moved to the professional ranks. Pitcher Nick Gallagher was 8-2 with a 3.48 ERA and All-America first baseman Jake Adams, the Big Ten Player of the Year, batted .335 with 29 home runs, 72 RBIs, and a .747 slugging percentage.
 
Junior rightfielder Robert Neustrom, who was named preseason Big Ten Player of the Year, returns after hitting .310 with nine home runs and 55 RBIs. He did not commit an error in 117 chances. Senior catcher Tyler Cropley (.268-9-36) is also back after joining Neustrom as a second-team All-Big Ten performer in 2017.
 
"The defensive side with Cropley back at catcher, that's a big, it is always great to have a great catcher to count on who has been through it before," Heller said. "He is one of the better guys defensively in the country and he has stepped up offensively."
 
Cropley threw out 19 of 53 would-be base stealers in 2017 (35.8 percent).
 
Two Iowa student-athletes — pitcher Kyle Shimp and centerfielder Ben Norman — were named Freshmen All-Americans a season ago. Shimp went 5-1 in 18 appearances with a 3.18 ERA, Norman batted .296 with a team-high 14 stolen bases.
 
The Hawkeyes will feel a power void without Adams, but that won't necessarily translate into a less-than-effective offense.
 
"We'll be a different team, but I think we will be a solid offensive team," Heller said. "We'll hit a lot of doubles and be able to run the bases a little better and we will score runs in a different way. I still think we will a good offense."
 
The Hawkeyes are further along this preseason, thanks to an August road trip to the World University Games in Taipei, Taiwan. Iowa went 5-2 and won the silver medal.
 
"It was huge as far as bringing the team together, the camaraderie, the culture side of it," Heller said. "To have the success gave us a great jump start. When we shut down in mid-October, we were way ahead of where we would have been and that has carried over to the second semester."
 
Iowa opens the season Feb. 16-18 with games against Toledo, Oakland, and Old Dominion at the Diamond 9 Sunshine State Classic Series in Kissimmee, Florida.