Hawkeye Fan Shop — A Black & Gold Store | 24 Hawkeyes to Watch 2017-18 | Hawk Talk Monthly — February 2018 | VIDEO — Allison Doocy
Editor's Note: The following first appeared in the University of Iowa's Hawk Talk Daily, an e-newsletter that offers a daily look at the Iowa Hawkeyes, delivered free each morning to thousands of fans of the Hawkeyes worldwide. To receive daily news from the Iowa Hawkeyes, sign up HERE.
By DARREN MILLER
hawkeyesports.com
IOWA CITY, Iowa — As a middle school softball pitcher in Ankeny, Iowa, Allison Doocy looked up to fellow Ankeny  athlete Shayla Starkenburg, who was nearly five years her senior.
 
It wasn't lost on Doocy when Starkenburg enrolled at the University of Iowa, appeared in the circle for the Hawkeyes 126 times, and won 34 games.
 
"She was the pitcher (in Ankeny) when I was growing up; that is who I always wanted to be like," Doocy said. "Then I got here and she was still who I wanted to be like."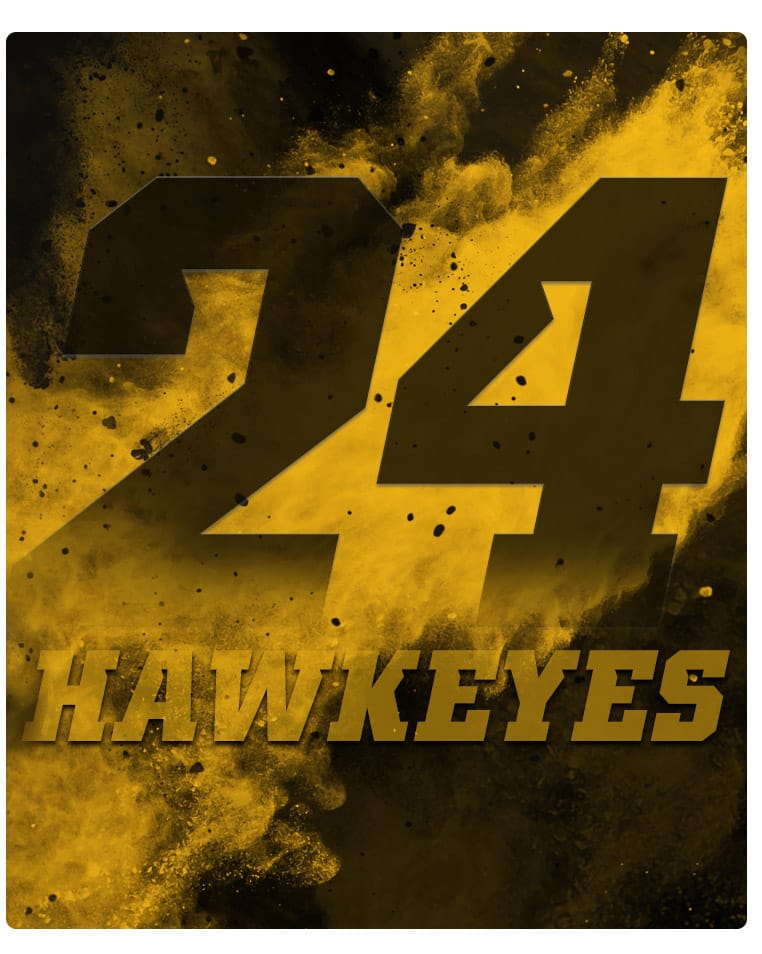 Although they were not high school teammates — Doocy was in eighth grade when Starkenburg was a senior — they spent the 2017 season together as Hawkeyes. Both pitchers won nine games.  
 
"(Shayla) helped me a lot with the mental side of the game and understanding we are all freshmen at one point," Doocy said.
 
Doocy is no longer a freshman and Starkenburg has graduated and is no longer on the Hawkeye roster. The first thing Doocy did when Iowa's two newest pitchers reported to camp in the fall was put a proverbial arm around their shoulders — just like a hometown veteran did for her a year ago.
 
"I had Shayla here last year and she took me in and helped me right away," Doocy said. "Last year I learned that you need more than one pitcher; we need all of us. I knew from Day 1 that my goal was to get them comfortable and ready, because when the conference (season) comes, we will need every one of us. I wanted to make sure they knew they belonged here."
 
Competing with Doocy for innings for the Hawkeyes will be senior Kenzie Ihle and Ashley Yoways, juniors Erin Riding and Mallory Kilian, and freshman Lauren Shaw. Ihle and Shaw are newcomers.
 
Iowa head coach Marla Looper noticed Doocy's willingness to be a leader and share time in the circle.
 
"The biggest aspect I loved to see is she grabbed the two new pitchers that joined us this fall and has had them to the right and the left of her," Looper said. "They have been in the pen and challenging each other every day, (asking) 'How do we all get better because we are all going to benefit by that?'
 
"You don't see that in someone who could step up and be the face of your program. But (Allison) knows she can't do that without the team around her and her team within the team, meaning the pitching staff."
 
Doocy's father, Craig, and mother, Pam, met while they were students at the University of Iowa, so it was not a shock that she wanted to enroll here as a student majoring in psychology and human relations.
 
"I grew up a Hawkeye," Doocy said. "Every time I came to Iowa City, we were enjoying Hawkeye football, Hawkeye basketball, and when I came on my visit, it was somewhere I knew I belonged. You could tell when my parents came here how much they enjoyed being (college students)."
 
And then there is Allison's sport of choice. Her father was track and field coach at Ankeny High School and her older sister, Lauren, ran for Simpson College. Even though her sister chose track as her marquee sport, Allison began softball by watching Lauren compete on the diamond.
 
"Everything my sister did, I wanted to do," Doocy said. "I started playing because of her; playing T-Ball and it went from there."
 
Doocy also participated in volleyball and track and field, but her heart was with softball. The Hawks qualified for the Class 5A state softball tournament when Doocy was a freshman and junior. She won 55 games in her pitching career with a 1.52 ERA and 712 strikeouts in 514 2/3 innings. When Doocy was a junior in 2015, Ankeny placed seventh at state and Doocy set a three-game state record with 34 strikeouts.
 
As a senior, Doocy compiled a record of 20-5, but when the season ended, she wasn't certain if softball was in her future. Until Looper and the Hawkeyes called.
 
In her first season with the Hawkeyes, Doocy appeared in 28 games (with 24 starts). She compiled a record of 9-15 with 119 strikeouts, four shutouts, and a 2.80 ERA in 145 innings. On April 17, Doocy was named Big Ten Conference Freshman of the Week after pitching the Hawkeyes to victories over Northern Iowa, Rutgers, and Nebraska. She fanned 28 batters in 27 innings and issued just six walks.
 
"It was motivation to keep pushing for the rest of the season," Doocy said.
 
The 2018 season has arrived and Doocy is stronger mentally and physically. She doesn't dwell on mistakes, instead moves forward; there are new pitches to keep batters off balance. Her control and velocity have improved.
 
"The challenge now is that (Allsion) is no longer an unknown," Looper said. "People know how good she is and how good she can be."
 
The Hawkeyes opened the season Friday with a 1-1 record at the Mardi Gras Tournament in Lafayette, Louisiana. Doocy tossed a four-hit shutout in the season opener, a 3-0 win over Illinois-Chicago. She fanned eight with no walks. Iowa returns to the diamond Saturday against UL-Lafayette and Evansville.