Hawkeye Fan Shop — A Black & Gold Store | 24 Hawkeyes to Watch – 2017-18 | Hawk Talk Monthly — February 2018 | Purchase Season Tickets
Editor's Note: The following first appeared in the University of Iowa's Hawk Talk Daily, an e-newsletter that offers a daily look at the Iowa Hawkeyes, delivered free each morning to thousands of fans of the Hawkeyes worldwide. To receive daily news from the Iowa Hawkeyes, sign up HERE.
By RICK BROWN
hawkeyesports.com
 
IOWA CITY, Iowa —  Tie game, top of the ninth. And a freshman at the plate.
 
Kyle Crowl dug in, and then sent a pitch over the fence for a two-run homer and a 4-2 victory for the University of Iowa's baseball team over South Florida.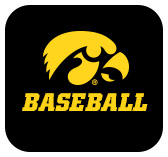 "I think I was smiling for a week after that," Crowl said of his first college hit. "I thought I was going to keep it rolling from there."
 
Turns out it was Fool's Gold. The victory against South Florida was the first of 39 for the Hawkeyes last season. It was a memorable campaign that included a Big Ten Tournament title and another NCAA Regional berth, but Crowl spent much of the time as a spectator.
 
"It was just a bad season for me," said the former Council Bluffs Abraham Lincoln standout.
 
Crowl saw action in 20 games, with six starts. He hit .061. That two-run homer against South Florida accounted for half of his RBIs.
 
"He wasn't in a very good place at the end of the year," said Iowa head coach Rick Heller.
 
But Heller has Crowl penciled in as the Hawkeyes' starting shortstop when they open the 2018 season Friday against Toledo in the Diamond 9 Sunshine State Classic Series in Kissimmee, Florida. What a difference a year makes.
 
"He let himself get in a hole and didn't dig out until it was too late," Heller said of Crowl's rookie season. "By the time he was starting to play better and swing better in the spring, the positions had all been set. He was a coming off the bench guy, but man, what an improvement. The guy we saw when we recruited him is here now."
 
Crowl has big shoes to fill. The last three Hawkeyes to play shortstop — Jake Yacinich, Nick Roscetti, and then Mason McCoy last season — were All-Big Ten players.
 
"That legacy at shortstop over the last four or five years holds me to a higher standard, and makes me work hard every day," said Crowl, who is competing with Tanner Wetrich for the starting job.
 
"I feel like both those guys have put themselves in a position where they can do a great job for us defensively," Heller said. "Kyle's the guy we're going to go with this weekend. He has earned it. He has been the most consistent to this point."
 
The story of how Crowl got to where he is now starts with where he was a year ago.  Often a spectator instead of a player for the first time in his baseball career, Crowl was discouraged. But a cast of people keep him going. His roommate, Corbin Woods, for one.
 
"He helped me stay afloat," Crowl said. ""He said, 'You're a really good player, come back here and play your game.' That helped a lot."
 
Crowl also leaned on his brothers,  Alex and Collin, who played both played baseball collegiately. And his parents, Ron and Mary Jo.
 
McCoy tried to keep Kyle's spirits up as well. That's who Crowl watched closer than any other teammate when he was on the bench. He watched McCoy and his pre-pitch routines. He listened as McCoy gave him tips on turning double players faster, fielding the ball differently, and the mental side of the game.
"His defensive game was unbelievable," Crowl said. "He's one of the best shortstops to ever play in this conference. He really helped me last year."
 
Gaining experience was also important. Crowl played more than 30 games over the summer for the Quincy Gems in the Prospect League.
 
"That was big," Heller said. "He could just play, and get away from everything and just get himself back."
 
More offseason experience came with his teammates as they represented the United States at the World University Games in Taipei, Taiwan. In preparation for that event, the team played three summer games at Duane Banks Field and also competed in the National Baseball Congress World Series in Wichita, Kansas.
 
Crowl started all seven games at shortstop at the World University Games, hitting .333 for a team that won the silver medal. He has continued to work on his swing with hitting coach Sean Moore.
 
"He worked really hard with Sean, and I like where Kyle's swing is now," Heller said. "All of us are optimistic that he can have a solid offensive year."
 
The guy who was down on his luck at the end of the 2017 season can't wait for the 2018 season to get started.
 
"I'm a lot more confident coming into this year," Crowl said.