Hawkeye Fan Shop — A Black & Gold Store | 24 Hawkeyes to Watch – 2017-18 | Hawk Talk Monthly — February 2018 – http://catalog.e-digitaleditions.com/i/935355-february-2018
By JOSH O'LEARY
Iowa Alumni Magazine
IOWA CITY, Iowa — They attended countless practices, watched endless hours of game film, and traveled to new arenas each week.
And that was before they ever put on a Hawkeye uniform.
For the children of several longtime Iowa winter sports coaches, UI athletics have been a way of life from an early age.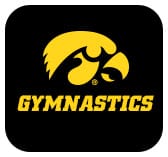 Hawkeye fans may remember a young Hannah Bluder singing in front of the cameras during her mother's first Iowa City press conference. Madigan Brands hugging her dad after cheering him on at the NCAA championships. Taylor Libby absorbing the lessons her mother drilled home in her gymnasts. And Connor McCaffery dribbling in the corner while his dad led another long practice.
Today, each of these coaches' kids are making their own mark at the UI as student-athletes or, in Brands' case, as a student-manager. Although these homegrown Hawkeyes share a last name with some of the most recognizable sports figures in Iowa, they've worked tirelessly to succeed on their terms and by their own merits-often in a sport beyond their parent's profession.
Iowa Alumni Magazine recently spent time with each of these family duos to learn what it was like growing up in the Hawks' nest, the challenges of balancing family life and big-time college sports, and the unique bond they share beyond the bright lights of Carver-Hawkeye Arena.
Larissa and Taylor Libby
When Taylor Libby tagged along with her mother to work as a kid, she didn't just scribble quietly at a desk or make paper chains with sticky notes. Instead, she climbed ropes, flipped onto mats, and teetered across balance beams.
"I would say I was born in the gym," says Taylor on a recent morning in the UI Field House, where she grew up watching mother and former Olympian Larissa Libby lead Hawkeye women's gymnastics practices. "Some of my earliest memories were jumping on a trampoline and being babysat by the gymnasts. It's a very family-oriented sport, and that shows in how I was brought up."
Like the gymnasts she idolized, Taylor is now a student-athlete at the UI-though the only time she worries about sticking a landing is when she dives into home plate. After deciding at an early age that her heart wasn't in gymnastics, she's forged her own identity on the softball diamond. Taylor is entering her second season with the Hawkeye softball team after a decorated prep career at Iowa City West High School and a freshman year slowed by an ACL tear.
While women's gymnastics combines athleticism with artistry, Taylor, a power-hitting catcher, was drawn to the grittiness and physical nature of softball. Not to mention, her father, Chad Libby, is a softball lover who coaches youth teams and spent years tossing pitches to Taylor.
"Gymnastics is a very individual sport, and my personality is more team-oriented," says Taylor, who studies graphic design and sports marketing at the UI. "Softball is also, I would say, less flashy. It's a little more impact oriented, and you get dirty. And I liked that."
It's a different path than her mother, a gymnastics prodigy growing up in Canada who won national titles and a spot on her native country's 1988 Olympics team. Larissa competed collegiately and served as an assistant coach at Louisiana State University before joining the coaching staff in Iowa City. This winter marks her 18th season at Iowa, where she's served the past 14 years as head coach.
Although her family has been the GymHawks' biggest cheering section at Carver-Hawkeye Arena and at the occasional road meet, Larissa has always wanted Taylor and younger sister, Bailey, to explore their own interests. She made a point of keeping her profession and parenting separate by not coaching her daughters-though Bailey has naturally gravitated toward gymnastics.
"I wanted my kids to be involved in a sport because they liked it, not because I chose it for them," says Larissa, the Big Ten's reigning coach of the year. "I'm always thrilled when my kids find something they're passionate about, and it's very clear that while Taylor liked gymnastics, she loved softball. It also helped her define herself a little more."
Taylor has, however, followed in her mother's footsteps in at least one area. She's begun coaching in the offseason, and this summer she'll work as an assistant for the high school softball team in West Liberty, Iowa, where her dad is head coach. After watching from the sidelines for all those years as her mother motivated student-athletes, Taylor aims to similarly inspire young players. "Her dedication to her team inside and outside of practice is unlike anything I've ever seen," Taylor says. "And I hope I can embody at least half of that passion for her sport."