Hawkeye Fan Shop — A Black & Gold Store | 24 Hawkeyes to Watch – 2017-18 | Hawk Talk Monthly — February 2018 | 2018 UWW World Cup | Season Tickets | Match Notes: Iowa State
Editor's Note: The following first appeared in the University of Iowa's Hawk Talk Daily, an e-newsletter that offers a daily look at the Iowa Hawkeyes, delivered free each morning to thousands of fans of the Hawkeyes worldwide. To receive daily news from the Iowa Hawkeyes, sign up HERE.
By DARREN MILLER
hawkeyesports.com
IOWA CITY, Iowa — Don't believe the web site. Throw out the game notes. Forget about the media guide.
 
All three of those say University of Iowa redshirt freshman Alex Marinelli's hometown is Miamisburg, Ohio. Not so, says Hawkeye head coach Tom Brands and Iowa's 165-pound wrestler.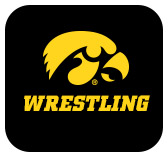 "I look at Alex Marinelli, he is an Iowan," Brand said Tuesday at his weekly news conference. "(His) address is in Iowa and (his) home is in Iowa now. That's what college athletics is all about: change your location and you become a part of that program. If you have one foot at (your former) home and one foot in Iowa City, I don't know how committed you are. Ask Marinelli where he is from? He is from across the street, right over here."
 
So what is it, Alex? 
 
"I'm from Iowa," Marinelli said.
 
All Iowans know that this is the biggest wrestling weekend in the state. First, there were the dual and traditional high school state tournaments from Wednesday to Saturday. Today, the two largest universities renew their annual rivalry on a mat in Hilton Coliseum in Ames.
 
The undefeated and second-ranked Marinelli is 13-0 and riding momentum from his most impressive collegiate victory, a 9-6 decision over defending national champion Vincenzo Joseph of Penn State. Joseph led 5-1 at one point in the second period.
 
"I had a hard, hard ride on him in the second period," Marinelli said. "I looked at (assistant coach Ryan) Morningstar and (associate head coach) Terry (Brands) and (head coach) Tom (Brands) and they knew I was getting in his head. I had to stay low and be ready for whatever he had. I was ready; I felt his inside trip in the first period and in the third period I capitalized on it."
 
With 1:30 remaining, Marinelli locked up a bear hug and threw the top-rated Joseph feet-to-back for a six-point, match-winning move.
 
"He is ready to go and excited to compete, that is probably the thing that is most consistent," Brands said of Marinelli. "Performance-wise, just go out there and score points. When your mindset is that way, then he is going to score points."
 
Because of the victory, Marinelli shared Big Ten Wrestler of the Week honors with Michigan heavyweight Adam Coon. Coon defeated defending national champion and Olympic gold medalist Kyle Snyder on Sunday. Marinelli chuckled when asked about splitting the award.
 
"I guess Adam Coon did a good job, I can't take anything from him," Marinelli said. "That's the thing: Big Ten is a big, big conference in Division I wrestling this year. It's a testament to the Big Ten Conference and what's going on and the people that are wrestling. It is an honor to be in that conversation."
 
Who would have Marinelli voted for?
 
"Beating an Olympic champion is pretty cool, not many people can say that," Marinelli said. "We both beat a No. 1 guy and that's just the next step in the right way. For Coon, that's a good job, but with me, we have to wait until Big Tens and nationals to really put our best wrestling out there."
 
Before the postseason, there is one more stop for Marinelli and it is against the Cyclones. Former workout partner Skyler St. John is one of two Iowa State competitors listed at 165. St. John transferred from Iowa to Iowa State after his brother Derek, a national champion at Iowa, was hired as an assistant coach there.
 
"Whoever they put on the mat, I am going to go out there and wrestle my hardest and try to break him," Marinelli said. "The goal is to pin in every match and be dominant in a more dominant fashion. I want to go out there at Iowa State and pin and put on a show for the fans."
 
Some would say his words are spoken like a true native Iowan.