Hawkeye Fan Shop — A Black & Gold Store | 24 Hawkeyes to Watch – 2017-18 | 2018 UWW World Cup | Hawk Talk Monthly — March | NCAA Wrestling Central
Editor's Note: The following first appeared in the University of Iowa's Hawk Talk Daily, an e-newsletter that offers a daily look at the Iowa Hawkeyes, delivered free each morning to thousands of fans of the Hawkeyes worldwide. To receive daily news from the Iowa Hawkeyes, sign up HERE.
By DARREN MILLER
hawkeyesports.com
CLEVELAND — Zero drama, zero maintenance, four All-America awards.
 
If you're looking for a Cliffs Notes description of University of Iowa senior 149-pound wrestler Brandon Sorensen, that's it.
 
No worries, no trouble, just results.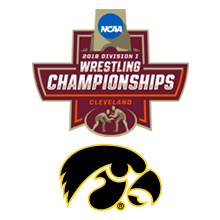 During the last five years as a member of the Hawkeye wrestling family (Sorensen redshirted in 2013-14), the native of Cedar Falls, Iowa, won 127 matches against 17 losses. His final collegiate bout Saturday ended with a 4-0 victory over third-seeded Grant Leeth of Missouri for fifth place at the 2018 NCAA Championships.
 
Sorensen is the 20th University of Iowa wrestler to earn four All-America awards; Cory Clark became the program's 19th last season when he won a national championship over Seth Gross in the 133-pound title match in St. Louis.
 
"Brandon Sorensen is invaluable to our program," said Iowa head coach Tom Brands, also a four-time All-American. "He is a great representation of what we are about. He was raised right and handles himself right."
 
But Sorensen will be the first to tell you there is a void in his resume. He was a three-time Big Ten Conference runner-up. At his four NCAA Championships, he placed fourth, second, third, and fifth.
 
"It was big coming back (in wrestlebacks) for me mentally moving forward," Sorensen said. "This isn't how I wanted to end my career. I wanted better, but I can't change history now. I feel I accomplished something. (Being a four-time All-American) means something. That is what I have to hang my hat on."
 
There have been two previous Hawkeye four-time All-Americans who didn't stand on top of the podium at the national tournament. Mike DeAnna placed third, sixth, second, and second from 1976-81 and Mike Mena was seventh, third, fifth, and second from 1993-97.
 
Call it an ironic twist, but a quarter of Sorensen's career victory total came in postseason. He was 11-4 at four Big Ten Championships, placing second, second, third, and second, and 21-6 in NCAA tournaments. That's a nifty 32-10 record against some of the best folkstyle competition in the world.
 
How do you want to be remembered, Brandon?
 
"As a competitor and a guy that puts it all out there, that lives the right lifestyle and goes about things the right way," Sorensen said.
 
Perhaps nothing in his career describes Sorensen's character more than his effort in Sessions III through V at his final tournament. On Thursday evening, in the round of 16, he was upset by Ronald Perry of Lock Haven, 3-2.
 
In his words, Sorensen said it would have been easy to check out, not make weight, end it right there. But with team points in the balance, he regrouped, won four straight matches on the back side of the bracket and eventually finished his final college match by pitching a proverbial shutout. It was a win that clinched a team trophy for the Hawkeyes.
 
"Getting knocked down for me early and coming back was huge mentally," Sorensen said. "I could have taken the easy way out, but that's not me and that's not our team. We're going to fight back for every point possible and move forward."
 
The Hawkeyes finished third at the NCAA Championships with 97 points. Sorensen was a big reason why Iowa kept the pressure on Penn State and Ohio State the entire three days.
 
Sorensen's "fun ride" may have ended on the competitive mat, but indications are that he will stick around the Dan Gable Wrestling Complex to train and make himself and those around him better.
 
"I like to set an example, I feel I work hard," Sorensen said.
 
He did that and more over the past five seasons. And he did it with zero drama and zero maintenance.