Hawkeye Fan Shop — A Black & Gold Store | 24 Hawkeyes to Watch – 2017-18 | Hawk Talk Monthly — April 2018 | 2018 UWW World Cup | I-Club Events Page | UWW Finals Photo Gallery
Editor's Note: The following first appeared in the University of Iowa's Hawk Talk Daily, an e-newsletter that offers a daily look at the Iowa Hawkeyes, delivered free each morning to thousands of fans of the Hawkeyes worldwide. To receive daily news from the Iowa Hawkeyes, sign up HERE.
By DARREN MILLER
hawkeyesports.com
IOWA CITY, Iowa — The heart of wrestling is in Iowa City, Iowa. Its aorta is Carver-Hawkeye Arena. Listen to fans, listen to competitors, listen to coaches, they will all tell you the same.
 
Nearly 13,000 marched into the home of the Iowa Hawkeyes on Saturday and Sunday and they were treated to Team USA's undefeated four-win run to gold. It is the first World Cup crown for the USA since 2003.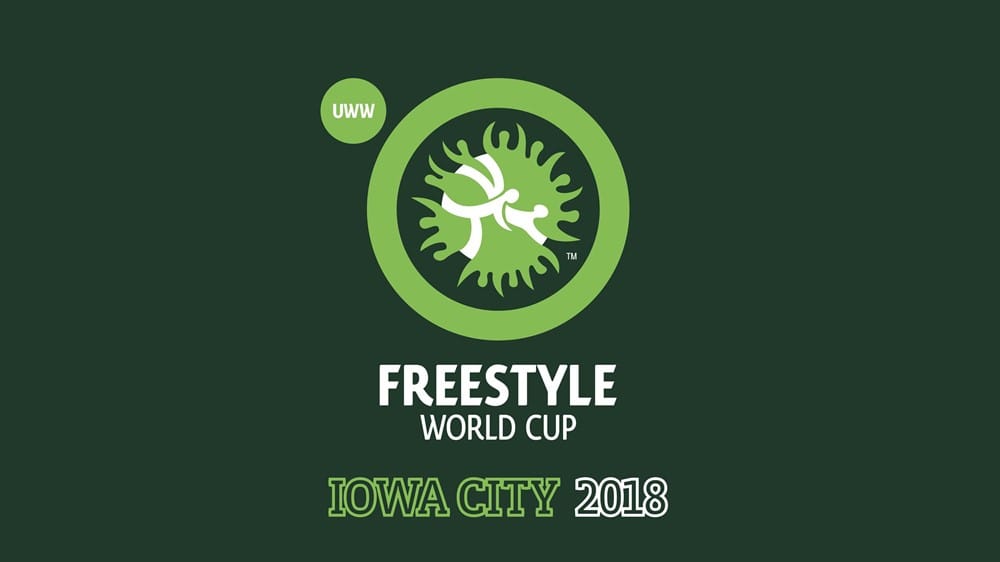 All three sessions and finals featured a lively and pro-USA crowd. Make that a pro-sport-of-wrestling crowd.
 
"This is the best atmosphere in the world, hands down," said Kyle Dake, a four-time NCAA champion from Cornell University and a 2016 US Open champion. "These fans are insane. They love the sport of wrestling and I'm just trying to put on a show for them."
 
Dake rolled through every opponent he faced in the 79 kilogram weight class. He opened with an 11-0 technical fall against Sachin Giri of India, then a 10-0 technical fall over Sohsuke Takatani of Japan, then a 10-0 technical fall over Tariel Gaphrindashvili of Georgia. He was a 5-3 winner in the finals over Jabrayil Hasanov of Azerbaijan.  
 
If there is anything Iowans enjoy more than a sunny, seasonably-warm spring day, it's aggressive wrestling in Carver-Hawkeye Arena. At least they saw aggressive wrestling Saturday and Sunday.
 
"It feels great to come to Carver-Hawkeye Arena and be cheered for," said David Taylor, a 2017 World Cup champion and two-time NCAA champion from Penn State. "It's an amazing crowd. It feels great to be here and be a part of this team."
 
For two days, an arena accustomed to chants of "Let's Go Hawks" was filled with echoes of "U-S-A."
 
"It's insane. I'm a (Nebraska) Husker fan, not a Hawkeye fan, but I love it here," said Jordan Burroughs, 2012 Olympic champion and four-time World champion. "The atmosphere is amazing. It's the Mecca of wrestling. (Iowa All-American) Thomas Gilman is my teammate, I got the chance to spend time at (former Iowa head coach) Dan Gable's house, I have been in the sauna with (current Iowa coaches) Tom and Terry Brands, (Iowa All-American and former World Team member) Royce Alger is running the hallways telling bad jokes. It's been an amazing week."
 
The fans in attendance at the UWW World Cup refused to identify solely with Hawkeye black and gold, Nittany Lion blue, or Nebraska scarlet. It was a lovefest for United States red, white, and blue.
 
"They are good wrestlers and we appreciate watching them all," said Julie Hoben of Coralville, who was accompanied by her husband. The Hobens have been Iowa wrestling season ticket holders for 15 years.
 
"The first time it was hard to cheer for (the non-Hawkeyes) because it just felt weird," said six-year Iowa season-ticket holder Doug Benjamin of Spencer. "But they are such great ambassadors of the sport, it's not hard at all to support them. They are fun to watch and I enjoy it."
 
Before Team USA arrived in Iowa City on April 4, coach Bill Zadick, a 1996 national champion for the University of Iowa, mentioned how his team could feed off the venue's electricity. It helped that many members of Team USA had already competed in Carver-Hawkeye Arena as either a collegian or at the 2016 Olympic Team Trials.
 
"The Iowa fan base has such a great reputation, so they knew what they were getting into," Zadick said. "We figured it would be a lift and a boost and it certainly was."
 
The joy of competing in front of thousands of spectators wasn't limited to Team USA. When Japan's Yuhi Fujinami won by 16-5 technical fall over Livian Lopez of Cuba in a 74 kg bout, he circled the outside of the mat and waved his arms to loud applause.
 
"I competed in Los Angeles recently and the atmosphere was great, but Iowa City is even greater," Fujinami said through an interpreter. "We don't have that atmosphere in Japan, so I am grateful to be here.
 
"In Japan, when a lot of wrestlers win, they don't really celebrate like that. Because I am in the United States and I had an opportunity to wrestle in front of these crowds, I felt I could show my emotions in a magnificent way; you can only do that in the United States."  
 
How knowledgeable are the Carver-Hawkeye Arena fans? Ask Gilman, who was in a dogfight before pulling out a 6-4 victory over Teimuraz Vanishvili of Georgia at 57 kg. There were 16 seconds remaining as Gilman returned to center mat with a two-point lead. What was going through the head of the 2017 World silver medalist?
 
"Move my feet," Gilman said. "I heard Tom (Brands) saying it, I heard (Hawkeye Wrestling Club coach Mark) Perry saying it."
 
Gilman's coaches weren't the only ones with the advice.
 
"I heard fans saying it," Gilman added. "That shows you how much our fans know."
 
University of Iowa student Anne Riley contributed to this story