Hawkeye Fan Shop — A Black & Gold Store | 24 Hawkeyes to Watch – 2017-18 | Hawk Talk Monthly — April 2018
Editor's Note: The following first appeared in the University of Iowa's Hawk Talk Daily, an e-newsletter that offers a daily look at the Iowa Hawkeyes, delivered free each morning to thousands of fans of the Hawkeyes worldwide. To receive daily news from the Iowa Hawkeyes, sign up HERE.
By SYDNEY OCKER
hawkeyesports.com
IOWA CITY, Iowa — The end of a season is bittersweet for student-athletes, but for the eight seniors on the University of Iowa softball team, the end of the season also means the end of an era.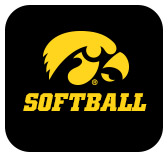 As the Hawkeyes' eight seniors prepare for their final games at Bob Pearl Field, they reflect on their time in the Black and Gold.  
No. 9 Sarah Kurtz | Herndon, Virginia
"To say I'm proud would be an understatement. I am proud of my teammates and how they've grown this season and how they will continue to flourish and fight once we have left. I am proud to be a part of a community that is passionate about every single Hawkeye sport. I am proud to have been part of an Iowa softball culture that prides itself on work ethic, community service, and competing every single day. I am proud to have been given the opportunity to represent this university and community on and off the field. Thank you, and forever Go Hawks."
 
No. 12 Angela Schmiederer | Prospect Heights, Illinois
"I am so thankful for my teammates and the lifelong friendships, memories, and laughs that we have created together. I am humbled to have been a part of such an outstanding Iowa City community that works so diligently for the benefit of others. It is a community that bleeds Black and Gold and has an undying support for all Hawkeye student-athletes. I am so fortunate to have been able to play for a coaching staff that has fostered self-growth, resilience, integrity, hard work, and confidence in myself and my teammates. My time at the university has been unforgettable and for that, family, friends, and fans, I am forever grateful."
 
No. 17 Allie Wood | Cypress, California
"I'd like to thank everyone who has ever impacted my life and made my softball career so special to me. I am so grateful to have all of you in my life and you are all the reason that being an Iowa Hawkeye has been possible. This chapter in my life may be over, but I am excited to see what our class has in store in the future."
 
No. 20 Daniella Ibarra | Emerson, New Jersey
"First, thank-you, God, for allowing me to be here today, for letting me stand here healthy, both mentally and physically; I am truly grateful. Second, thank-you to my family, friends, all of my teammates, present and past, coaches, and everyone who has helped me become the person I am today. I am blessed to have all these people in my life. Lastly, thank-you, Iowa, for making me a Hawkeye and letting me be part of the best fans, community, and school in the world!"
 
No. 22 Kenzie Ihle | Des Moines, Iowa
"Even though my time on the mound is coming to an end, it will always be a huge part of my life. I will never forget the coaches, people, and experiences. This sport has given me more than I could have ever imagined. I began my college career at DMACC, a junior college in Boone, Iowa. I transferred to Indiana State University my junior year and decided to finish out my senior year at the University of Iowa. I am so grateful that I had the opportunity to come back to Iowa to finish out my final softball season, represent my home state, and wear the Black and Gold. I will always be proud to say that I am a Hawkeye." 
 
No. 27 Cheyenne Pratt | Festus, Missouri
"The opportunity that I was given to be a Hawkeye has been an absolute blessing. The places I have seen, the people I have met, and the memories I have are incredible. While there were many trials that I faced throughout my time as a Hawkeye, I would not change the journey one bit because it helped me grow into the person that I am today. I am thankful for you Hawkeye Nation and Go Hawks!"
 
No. 36 Ashley Yoways | Cedar Lake, Indiana
"This experience has been better than I ever dreamed it would be. Having the opportunity to be part of such an amazing community is humbling. The Hawkeye community's pride and dedication to the program and Iowa as a whole has made this experience so special. Iowa has given me the opportunity to build bonds and friendships with some of the most inspiring, strong, and kind-hearted people."
 
No. 44 Daniela Chambers | Irvine, California
"I would like to thank everyone who crossed my path during my four years at Iowa. Every single one of you have made an impact in my life and have helped shape the person I am today. I will forever cherish the memories I made with my teammates past and present, and continuously say "Go Hawks" with pride."
 
The Hawkeyes host Purdue from Friday through Sunday at Bob Pearl Field in the final series of the regular season.  Friday's first pitch is set for 5 p.m. (CT).