Hawkeye Fan Shop — A Black & Gold Store | 24 Hawkeyes to Watch 2018-19 | Fight For Iowa
IOWA CITY, Iowa — Henry B. and Patricia B. Tippie Director of Athletics Chair Gary Barta and University of Iowa head baseball coach Rick Heller have agreed on a contract amendment that will run through 2024.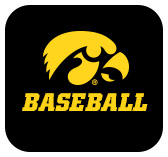 "Rick has done a tremendous job from day one, winning, graduating, and building this program the right way," said Barta. "Rick has turned this program into one that contends annually in the Big Ten Conference and nationally.  This amendment puts us in a position to keep Rick in Iowa City for the foreseeable future."
 
In his five seasons in Iowa City, Heller has guided the Hawkeyes to 173 victories, averaging 34.6 wins per season.  Heller guided Iowa to the NCAA Regionals in 2015 — a first for the program since 1990 — and two seasons later the Hawkeyes won their first Big Ten Tournament title in program history.
 
Iowa has played in NCAA Regionals twice in Heller's five seasons. The program advanced to NCAA play just three times in its history prior to Heller's arrival.  The Hawkeyes also claimed a silver medal at the 2017 World University Games, becoming the first American squad to medal in Universiade history.
 
Heller has coached six All-Americans and at least one first-team All-Big Ten selection in each of his five seasons and the program has had 20 Major League Baseball Draft selections — the most in a five-year stretch all-time.