Hawkeye Fan Shop — A Black & Gold Store | Hawk Talk Monthly — October 2018 | 24 Hawkeyes to Watch 2018-19
IOWA CITY, Iowa — The University of Iowa baseball team's Black & Gold World Series begins Wednesday at Duane Banks Field.  Game time is set for approximately 3:15 p.m. (CT).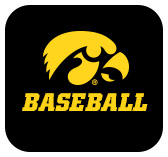 The Gold team's roster consists of: Brett McCleary, Grant Judkins, Izaya Fullard, Tanner Wetrich, Lorenzo Elion, Duncan Davitt, Ben Probst, Trace Hoffman, Drew Irvine, Jake McLaughlin, Hunter Lee, Cole McDonald, Chris Whelan, Zeb Adreon, Justin Jenkins, Kace Massner, Matt Berst, and Adam Ketelsen.
The Black team's roster includes: Austin Martin, Tanner Padgett, Brayden Frazier, Brendan Sher, Matthew Sosa, Connor McCaffery, Ben Norman, Luke Farley, Kyle Shimp, Cam Baumann, Jack Dreyer, Grant Leonard, Jason Foster, Shane Ritter, Derek Lieurance, Clayton Nettleton, Trenton Wallace, and Mitchell Boe.
The World Series consists of three games with Friday being an "if necessary" game.  Admission is free and open to the public.