Hawkeye Fan Shop — A Black & Gold Store | 24 Hawkeyes to Watch 2018-19 | Hawk Talk Monthly — October 2018
IOWA CITY, Iowa — University of Iowa redshirt freshman Connor McCaffery hit a walk-off two-run home run, sending the Black Team a 4-3 victory in the first game of the Black & Gold World Series on Wednesday at Duane Banks Field.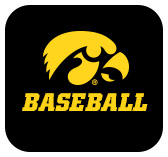 After the Gold team grabbed a 3-1 lead with a two-run top of the seventh inning, the Black squad rallied for the victory.  Junior Ben Norman started the inning with a solo home run to close the gap to 3-2 before junior Austin Martin ripped a hard single to keep the rally going.
 
McCaffery proceeded to walk it off with the game-ending blast to right field, giving the Black squad a game one victory in the best of three series.
 
The Black team finished with seven hits in the game. Norman finished 2-for-4 with a double and home run, while freshman Brayden Frazier was 2-for-3.  Junior Tanner Padgett also homered in the game, hitting a solo blast in the fourth.
 
The Gold team finished with six hits, highlighted by two-hit games from sophomores Izaya Fullard (2-for-4, 2B) and Brett McCleary (2-for-4, 2B, RBI).  Junior Zeb Adreon and sophomore Kace Massner also had RBIs in the game.
 
Junior Grant Judkins pitched four innings for the Gold team, allowing one run on three hits and fanning three.  Junior Trace Hoffman fanned two in two scoreless innings, and sophomore Ben Probst suffered the loss, three runs on three hits in two innings.
 
Junior Grant Leonard earned the win, despite allowing two runs on two hits in the top of the seventh.  Sophomore Cam Baumann went 3 1/3 innings in the start, allowing one run on three hits and fanning two.
 
Game two of the Black & Gold World Series will take place Thursday beginning at approximately 3:15 p.m. (CT).