Hawkeye Fan Shop — A Black & Gold Store | Hawk Talk Monthly — October 2018 | 24 Hawkeyes to Watch 2018-19
By ROB McCOLAUGH
hawkeyesports.com
IOWA CITY, Iowa — The University of Iowa's women's tennis program hosts the 2018 ITA Central Regional Championships this  week and next at the Hawkeye Tennis and Recreation Complex.
The five-day tournament begins Friday at 9 a.m. (CT) and concludes Tuesday, Oct. 16.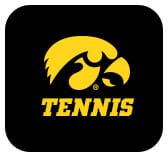 Seven Hawkeyes, including five newcomers, are playing in the singles and doubles championships. Freshmen Michelle Bacalla, Sophie Clark, Samantha Mannix, and sophomore transfer Ashleigh Jacobs are expected to make their Hawkeye debuts. They are joined by sophomores Danielle Bauers and Danielle Burich, and senior Adorabol Huckleby.
 
The tournament marks the beginning of the team's fall competitive season. It's also the first time an ITA Regional tournament has been held in Iowa City.
 
"I'm thrilled to host this tournament," said Iowa head coach Sasha Schmid. "I've been in the Central Region for eight years now and have had the chance to coach and visit many other college campuses within this region. At Iowa, we have a premier tennis facility that I'm excited to show off."
 
Twenty-six visiting schools and more than 160 student-athletes from the Central Region are expected to compete, making it one of the largest ITA Regional tournaments in the history of the event.
 
"I have tremendous pride in Iowa City and I'm excited for the people within college tennis that have never visited Iowa City to experience our community and what it means to be a Hawkeye," said Schmid.  "This has been a lot of work for our staff and I'm grateful for all the effort that has been put into hosting this event."
 
The tournament serves as a bit of an icebreaker for Iowa. Junior Elise van Heuvelen has been Iowa's top player the past two seasons, earning first-team All-Big Ten honors in 2017 and 2018, but she has been sidelined this fall with an injury. That has left the Hawkeyes with just three returning letterwinners on the court, and that includes sophomores Burich and Bauers, who saw very limited action last season.
 
With so many new faces, the fall has been an adjustment period for Iowa's players and coaches.
 
 "Practice has been going well, considering the amount of new teammates we have this year," said Huckleby, the lone senior on Iowa's roster. "Everyone is getting used to playing with each other and overall learning more about each other."
 
Because of the Hawkeyes' youth, Schmid made the call to limit the number of fall tournaments on Iowa's schedule. Instead, she wants to see her rookies — some from neighboring states Nebraska and Illinois, others from Belgium, Canada, and England — to get acclimated to their new home.
 
"It has been nice for us to have some extra time for the five new members to settle into their new routines," said Schmid. "With the first tournament of the season being a little later than years past, it's given the new members of the team time to get adjusted to practices, conditioning, and also their new academic requirements and challenges. We're starting to get more acclimated to college as a group, and now we're excited to start watching them play against outside competition."
 
The five-day tournament is free to the public. Competition begins daily at 9 a.m. (CT). For more information about the ITA Central Regional Championships, and a complete schedule of events, visit hawkeyesports.com/ITACentral.