Hawk Talk Monthly — November | Hawkeye Fan Shop — A Black & Gold Store | 24 Hawkeyes to Watch 2018-19 | Hawk Talk Daily | I-Club Events Page | Tom Brands Media Day Transcript | Wrestle-Off Results
By DARREN MILLER
hawkeyesports.com
IOWA CITY, Iowa — Austin DeSanto didn't have an extensive bucket list coming out of Exeter Township High School in Reading, Pennsylvania.
 
"I just wanted to wrestle in college, I didn't really have a place to go," DeSanto said. "Whoever wanted me."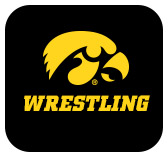 DeSanto began his college career at Drexel University in Philadelphia, where he went 29-7, finished third in the Eastern Intercollegiate Wrestling Association championships, and advanced to the semifinals of the 2018 NCAA Tournament.
 
In the offseason, DeSanto made a move that shook the college wrestling community. He transferred to the University of Iowa and one week before the start of the season, won back-to-back wrestle-off bouts over incumbent 133-pounder Paul Glynn.
 
The addition of DeSanto brings the number of former Pennsylvania preps in Iowa's starting lineup to five: Spencer Lee (125), DeSanto, Max Murin (141), Kaleb Young (157), and Michael Kemerer (174).
 
"He brings a lot of energy and a fire," Lee said of DeSanto. "If you're working as hard as Austin DeSanto, then you're working pretty dang hard. We're going to build a lot of good memories in the next three years."
 
Lee and DeSanto will forever be tied to Pennsylvania High School wrestling lore. In 2016, Lee defeated DeSanto, 15-0, in the state finals at 120 pounds. In 2017, DeSanto competed the majority of the season at 132 pounds, then dropped to 126 for the postseason, hoping to avenge the loss to Lee. Sure enough, the two met in the state finals, where DeSanto scored a late takedown for a stunning 6-5 victory.
 
Words spoken by DeSanto earlier in that senior season of high school mimic everything Iowa wrestling embodies:
 
"I just need to work harder," DeSanto told the pennlive.com. "I can't beat talent, but I can work my (butt) off."
 
There is an abundance of talent for DeSanto to sharpen against in the Dan Gable Wrestling Complex. Of the 11 Hawkeye wrestlers on the roster weighing from 125 to 141 pounds, seven have competed in a varsity lineup and four are NCAA qualifiers. 
 
"All those guys are monsters," DeSanto said. "It's awesome."
DeSanto is adjusting to Iowa and its passionate fan base. He was overwhelmed when he visited Iowa City in April for the 2018 UWW World Cup, only to be circled by Hawkeye fans seeking a selfie. Just last week, DeSanto couldn't believe the steady stream of bodies that crammed into the complex to watch wrestle-offs.
 
"I didn't expect that many people to come," he said. "It was cool."
 
In less than two weeks, DeSanto can expect to compete in front of 15,000 inside Carver-Hawkeye Arena.
 
"It's going to be crazy," he said. "I can't wait."
 
Iowa head coach Tom Brands said DeSanto will be an immediate fan favorite because of his competitiveness and ability to pile up points.
 
"His reputation precedes him and that's a good thing," Brands said. "The way that he competes, sometimes he takes it overboard a little bit, so we have to temper that. At the same time, we're going to temper that without taking anything away from him edge-wise. We want him to have that edge. We want him to have that competitive fire."
 
Of DeSanto's victories at Drexel, 18 resulted in bonus points, including 11 by technical fall.
 
"I like to score points and I heard (Iowa fans) like points put on the board, so that will be a good thing," DeSanto said. "(Iowa) is the place to be; this is the perfect spot for me. Everybody has the same mindset and the people are good. It is everything I dreamed of."
 
While DeSanto is a defending national qualifier, he fell short of his ultimate goal last March in Cleveland. Meanwhile, Lee was on his way to a national championship via an impressive five-win blitz through the 125-pound bracket.
 
"I want to do the same thing (Lee) did last year," DeSanto said. "That should be everybody's goal, right?"
 
Truer words were never spoken by any Hawkeye.