Hawk Talk Monthly — November | 24 Hawkeyes to Watch 2018-19 | Hawk Talk Daily | Hawkeye Fan Shop — A Black & Gold Store | I-Club Events Page | PHOTO GALLERY
IOWA CITY, Iowa — Austin DeSanto and Max Murin introduced themselves to the Carver-Hawkeye Arena crowd with a pair pins Friday to lead the third-ranked University of Iowa wrestling team to a 31-10 win against Princeton.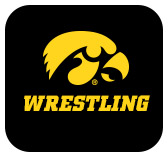 DeSanto led 7-1 before locking up a fall 27 seconds into the second period at 133. Murin backed him up with a fall in 4:23 at 141.
 
Both wrestlers were wrestling in front of the home crowd for the first time in their careers.
 
"I got chills," DeSanto said. "It really pumps you up and I'm excited for this season in front of these fans."
 
Iowa led 11-0 after two matches before Murin took the mat. Before DeSanto decked his opponent, Spencer Lee opened the dual with an 18-2 win at 125.  
 
"It gets me pumped up watching my teammates dominate like that," Murin said. "I feed off their energy."
 
Iowa won seven-of-10 matches overall. Alex Marinelli picked up a second-period fall at 165, and Kaleb Young (157), Cash Wilcke (184), and Aaron Costello (285) each won by decision.
 
The Tigers won by decision at 149 and 197, and picked up a major decision at 174. Top-ranked Matthew Kolodzik defeated No. 12 Pat Lugo, 7-4, at 149.
 
"[We] have to continue to get better," said Iowa head coach Tom Brands. "We have to get better with injury and technique. What you saw out there was 60-70 percent of our lineup. That's good news because that means we have some depth."
NOTEABLES
Lee has three technical falls in as many matches, total time of 7:28
DeSanto's pin was his first as a Hawkeye.
Myles Wilson and Aaron Costello made their Carver-Hawkeye Arena debuts.
Alex Marinelli and Spencer Lee improved to 6-0 all-time at Carver.
 
UP NEXT
The Hawkeyes host Purdue on Saturday, Nov. 24 at Carver-Hawkeye Arena. Tickets are available at hawkeyesports.com/tickets.
 
#3 IOWA 31, Princeton 10
125 — #1 Spencer Lee (IA) tech. fall Patrick Glory (P), 18-2; 5-0
133 — #11 Austin DeSanto (IA) pinned Jonathan Gomez (P), 3:27, 11-0
141 — #14 Max Murin (IA) pinned Marshall Keller (P), 4:23; 17-0
149 — #1 Matthew Kolodzik (P) dec. #12 Pat Lugo (IA), 7-4; 16-3*
157 — #13 Kaleb Young (IA) dec. Quincy Monday (P), 7-4; 19-3
165 — #4 Alex Marinelli (IA) pinned Dale Tiongson (P), 3:58; 25-3
174 — Travis Stefanik (P) major dec. Myles Wilson (IA), 15-3; 25-7
184 — #12 Cash Wilcke (IA) dec. Kevin Parker (P), 8-3; 28-7
197 — #7 Patrick Brucki (P) dec. Connor Corbin, 10-3; 28-10
285 — Aaron Costello (IA) dec. Obinna Ajah (P), 6-0; 31-10
Records: Iowa (3-0), Princeton (0-1)
*Iowa was deducted one team point following the 149-pound match
Attendance: 7,940