Hawk Talk Monthly — November | Hawkeye Fan Shop — A Black & Gold Store | 24 Hawkeyes to Watch 2018-19 | I-Club Events Page | Hawk Talk Daily | Princeton Recap (With Photos | Video)
By DARREN MILLER
hawkeyesports.com
IOWA CITY, Iowa — The wrestling opener inside Carver-Hawkeye Arena on Friday included a decisive 1-2-3 knockout combination for the home team.
 
Outcomes at 125, 133, and 141 pounds — all favoring the University of Iowa — took an elapsed 11 minutes and 44 seconds and essentially left no doubt as to the result of the dual.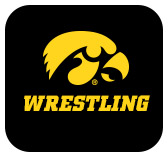 The Hawkeyes scored the first 17 team points and improved to 3-0 on the season with a 31-10 victory over Princeton. Iowa scored bonus points in four matches, including the first three.
 
It started with top-ranked sophomore Spencer Lee, who scored 14 first-period points en route to an 18-2 technical fall over No. 14 and previously unbeaten Patrick Glory. Lee used a takedown and three different four-point near falls in the first three minutes.
 
"That's the plan," Lee said. "(Iowa associate head coach) Terry (Brands) said before the match, when it's time, be ready to go. It was time to go out there, score points, and focus on wrestling seven minutes."
 
Like he did 17 of 24 times last season, Lee's match didn't make it a full seven minutes. It took Lee just 54 seconds into the second period to secure another takedown and two more near fall points to win by technical fall.
 
It was the sixth win without a loss in Carver-Hawkeye Arena for Lee, which makes him the old guard among Iowa lightweights. Sophomore transfer Austin DeSanto made his Carver-Hawkeye Arena debut at 133 pounds, as did redshirt freshman Max Murin at 141.
 
DeSanto registered the fastest fall of the evening in 3:27 over Jonathan Gomez. He used two takedowns and received a stall point in the first period to take a 5-1 lead. He reversed Gomez and pinned him 33 seconds into the second period.
 
"You could see it in Spencer's match, (Princeton wrestlers) are big roll guys and you could see it in all the other matches," DeSanto said. "They like to roll and when shot on, get in funky situations, so be ultra-aware drilling that stuff. When they roll, stick 'em."
 
Murin extended the Hawkeye winning streak to three with a fall over Marshall Keller in 4:23. Murin racked up four takedowns and was leading 8-3 at the time of the fall.
 
"It gets me pumped up watching those studs (Lee and DeSanto) dominate guys and then I go out there and try to do the same," Murin said. "That was my goal, I wanted to get a pin my first time in Carver and I got it. There is no time to dwell on the pin, it's a long season so I have to get focused for the next one.
 
"I couldn't picture how loud (the 7,940 fans) were going to be, but they were definitely loud and crazy and I love it. I'm excited to get some more pins here."
 
Iowa head coach Tom Brands liked what he saw in the first three matches, then immediately looked toward the future.
 
"Their pace is high, but they ironed some things out where they got a little bit better feel in there," Brands said. "I tell you what, you're going to have an even faster pace. It's going to be hard to keep up with them, but we have to keep getting better."
 
The Hawkeyes return to action Nov. 24 against Purdue inside Carver-Hawkeye Arena. Iowa's Big Ten opener against the Boilermakers begins at noon.