Hawkeye Fan Shop — A Black & Gold Store | 24 Hawkeyes to Watch 2018-19 | Hawk Talk Monthly — November | I-Club Events Page | Hawk Talk Daily
EDITOR'S NOTE: The University of Iowa wrestling program recorded the 1,000th dual victory in school history in the 2018-19 season opener. The Hawkeyes are just one of four wrestling programs in the country to reach the 1K milestone, and to celebrate, hawkeyesports.com is taking a look back at a handful of duals in the 109-year history of Hawkeye wrestling. This is… 1 in 1,000.
By CHRIS BREWER
hawkeyesports.com
IOWA CITY, Iowa — It is hard to say if Dan Gable would remember it the same way today, but Iowa's head coach was looking beyond the circle and into the future when Brooks Simpson was on the mat one Saturday in 1988.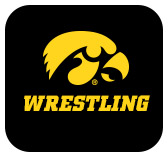 "If Gable is honest, and you ask him, he said this previously, I don't know that he will admit it now, but he said that while I was wrestling he was already preparing the next day's practice," Simpson said. "So he had already thought in his mind, this isn't probably going to happen. You could almost hear a pin drop at that point of the match."
 
Gable wasn't alone. Few people, if any, would be able to straight-face tell you they predicted what happened next.
 
But first, the context:
 
Iowa State was ranked No. 1 in the country. Iowa was ranked No. 2.
 
The previous season, Iowa State ended Iowa's run of nine straight national titles.
 
The Hawkeyes had never before lost a dual at Carver-Hawkeye Arena. But on this day, Jan. 16, 1988, they were the underdogs and trailed, 15-10, heading into Simpson's 190-pound match. Simpson was coming off knee surgery. Iowa State's Eric Voelkner was coming off a national title.
 
The mood, the score, and the matchups favored Iowa State. Of course Gable was mindfully planning tomorrow's practice; who could blame him.
 
But then Simpson did something to get Gable's attention.
 
"It went from gloom and doom to 'oh my gosh this can happen' within the course of a few seconds," Simpson said.
 
Trailing 6-1 and starting the second period in bottom position, Simpson got into a scramble.
 
"I remember watching a replay of the match on Iowa Public Television the next week, and as we were wrestling there were times I put Voelker in danger, but it didn't actually happen," Simpson said, "And you could see the Iowa State athletes at the time ribbing each other, 'oh, he almost got him,' but that's never going to happen.
 
"Never say never because anything can happen in the sport of wrestling. Never say die because you fight until the whistle blows and the fall is called."
 
Simpson hit a side roll, caught Voelker on his back, and settled for the fall in 4:46. He pulled the upset. He woke Gable and 13,000 Iowa fans. He gave the Hawkeyes a 16-15 lead.
 
"After the pin, that was nuts," Simpson said. "It was pandemonium. My dad ran on to the center of the mat. I told him, 'Dad get off the mat we're going to lose a team point.' There were fans running around. People throwing stuff. It was absolutely crazy. I'd never seen anything like it."
 
Before the circus could be tempered and anyone realized that the winner-take-all heavyweight match still needed to be decided, a second eruption had already started brewing.
 
"One of the things that was cool was right after I won and had come off of the mat, you take your straps off and get ready to put your warmups on, and no sooner, I was taking my straps off and putting my warmups on that our heavyweight, Mark Sindlinger, took down his opponent and was in the process of turning him over on his back," Simpson said. "He's getting ready for the pin. We're all on the bench. We're all standing there watching this. Gable has his arms raised and I'm right underneath him, right beside him yelling 'Call the fall, call the fall.'"
 
And they did. Final score: Iowa 22, Iowa State 15.
 
"It erupted again. Two pins, back-to-back. We swarmed him. It was just crazy. If there would have been a goal post and this was football, it would have been torn down. It was just one of those things."